125 firefighters battle huge blaze at a block of flats in London (videos)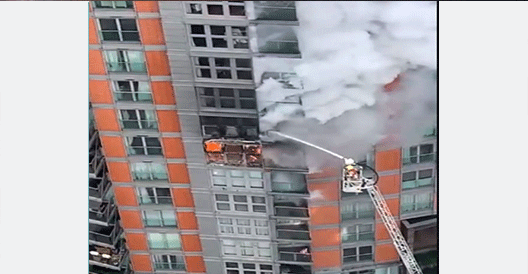 About 125 firefighters with 20 fire engines from London Fire Brigaid are attempting to put out a huge blaze which has broken out at a block of flats in east London.
Emergency crews reportedly rushed to the New Providence Wharf development, near Canary Wharf, shortly before 9am on Friday morning.
The cause of the fire is currently unknown, though the flames are understood to have engulfed at least three floors of the building.
Parts of the 8th, 9th and 10th floors have been affected by the fire. Several people have been treated by the Ambulance Service.
A London Fire Brigade spokesman said: "Twenty fire engines and around 125 firefighters have been called to a fire at a block of flats on Fairmont Avenue in Poplar.
"Firefighters are tackling a blaze at a 19-storey block. Parts of the eighth, ninth and 10th floors are alight.
"The Brigade's 999 Control Officers have taken 13 calls to the fire.
"The Brigade was called at 0855. Fire crews from Poplar, Millwall, Shadwell, Plaistow, Whitechapel, and surrounding fire stations are at the scene.
"The cause of the fire is not known at this stage."
All residents of the apartment block have been evacuated.