3 dead, 20 injured as driver mowed down diners on a packed restaurant patio before killing himself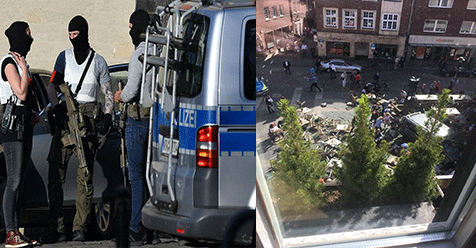 No fewer than 2 people have died and 20 people injured after a driver ploughed through crowds outside the popular Grosser Kiepenkerl bar in Münster, west Germany on Saturday afternoon.
Jens Handeln, 48, a German national with "psychological problems" drove a van at high speed towards families outside the bar in the university city, 300 miles west of Berlin. After mowing down diners, he shot and killed himself inside the vehicle at 3.27pm local time.
Six of the victims involved are in critical condition. Münster's university hospital has called on citizens to donate blood to help them treat the injured.
Dramatic photos from the scene show an area strewn with broken tables and chairs and onlookers running for their lives. Another footage shows armed police shouting at a suspect to "get down", but it is not yet known who he is.

Police are currently searching the driver's apartment for explosives though they say he has no links to any terrorist organisations. They are also investigating reports that two other people were seen fleeing the van after the crash.
State Interior Minister Herbet Reuel spoke in the city in the hours after the attack, confirming two people died and not three as earlier reported. He said German police believe the driver was a German citizen and hit out at misinformation being spread online, claiming a refugee was responsible.