3 injured and 3 in custody after SUV tries to ram gate at National Security Agency and is stopped by police officers who shot at its windshield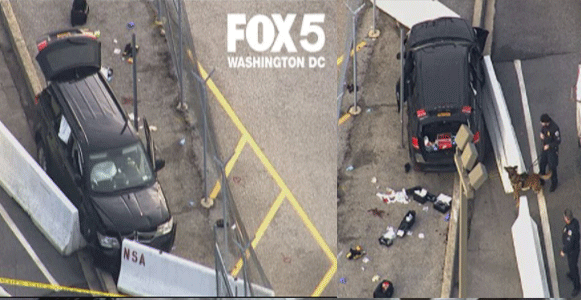 Three people were injured on Wednesday morning when an SUV attempted to ram the gates at the National Security Agency.
The SUV occupied by a male driver and two other suspects was brought to a stop by a police officer standing guard at the scene who shot at the vehicle's windshield, causing it to plow into the barriers. The incident happened at around 7.30am at the HQ in Fort Meade, Maryland, USA.
The driver was injured along with one police officer and a civilian who happened to be at the scene at the time. None of them were shot but all suffered non life-threatening injuries. All three of the people inside the car are in custody and police have not yet revealed their identities.
The bullet-ridden car remained at the scene for hours after the incident. After the suspects were arrested, the trunk of the car remained open and revealed several red boxes what looked like large plastic containers. There were blood stains on the sidewalk immediately behind it.
FBI agents are now investigating the incident. Police have not yet established a motive for the incident but they are confident it was not an act of terrorism.