8 donkeys spent 3 days in jail for eating plants and destroying flower pots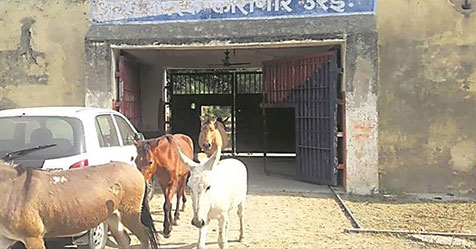 Eight donkeys spent 3 days in Orai District jail, India for feasting on plants and destroying flower pots placed outside the prison gates for a 'Swachh Bharat' project.
The donkeys were eventually freed on Monday after serving a three-day sentence. There were other animals involved in the deed but only 8 were caught and imprisoned. The donkey's actions reportedly cost the jail administration a loss of Rs 50,000.
The donkeys were handed over to their owner after the latter asked for forgiveness and gave an affidavit promising they would never be seen around the prison building again, said the jail administration, adding that they locked the animals in a room inside the prison premises "to teach a lesson" to owners who leave their animals loose.
When contacted, Superintendent of Orai District Jail, Sitaram Sharma, said: "We had been planning a plantation on jail campus under the Swachh Bharat Mission. We had brought some plants from Delhi and Agra. But in the last few days, goats, cows, and donkeys destroyed these plants and flower pots worth over Rs 50,000. We caught these animals, traced the owners of the goats and cows and handed over the animals with instructions not to let their animals loose here."
He added, "However, we failed to trace the owner of the eight donkeys. So we locked up these animals in an old empty building inside the jail premises day before yesterday."
On Monday, Kamlesh Kumar, the owner of the donkeys, arrived. Jail officials released the equines after he "requested for forgiveness" and submitted an affidavit stating he would not leave the donkeys loose in the area again.
"It is a grave problem in the vicinity as these animals cross the boundary wall and come inside the jail campus. They destroy our plants, break the fencing and some even entered the house of a staffer once," Sharma said.