'After 19 years, it is time for them to police their own Country' – Trump says ahead of planned withdrawal of troops from Afghanistan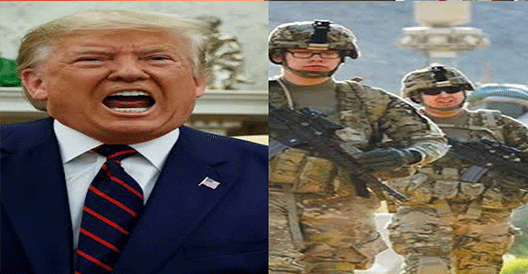 US President Donald Trump has doubled down on his initial plans to withdraw the thousands of US troops stationed in Afghanistan, likening America's actions in the Middle East country to that of a police man rather than a 'fighting force.
Trump during a Twitter tirade, reiterated that US soldiers will have to come home and if need be, the US would show its military power incase peace and stability of the region and the US is threatened by Talibans.
Trump taking to Twitter on Wednesday morning, said;
'We are acting as a police force, not the fighting force that we are, in Afghanistan.' After 19 years, it is time for them to police their own Country. Bring our soldiers back home but closely watch what is going on and strike with a thunder like never before, if necessary!'
US forces have been deployed in Afghanistan for over 17 years since the 9/11 bombing, making it America's longest war but Trump made it a campaign promise to bring back American troops home and in February announced that the U.S. and Taliban had reached an agreement that could precede a peace deal and end the long fought war in the region.