Homeless pregnant woman gives birth at a park unassisted after she was fired by her boss for being "too slow to work"(Photos)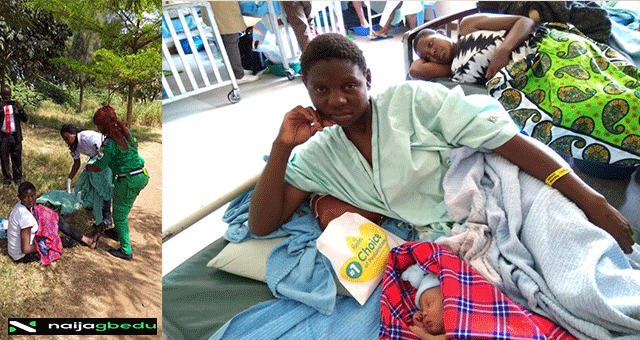 20-year-old Rebecca Atieno gave birth at a recreational park in Nairobi, unassisted shortly after being fired from her job. She had earlier been kicked out of a lodging in Muthurwa area because she could not raise Sh50. Moments after being fired from her hotel job last week Tuesday, Rebecca Atieno headed to Nairobi's Uhuru Park, the only place she could find a moment's solace. Confused, hopeless and reeling from the symptomatic third-trimester pregnancy exhaustion, she found a spot at the park where she hoped to gather her wits. The previous night, her landlord had kicked her out for failing to pay Sh50 at a rundown lodging in Muthurwa. While still at the park trying to figure out what the future held for her, she felt the call of nature, but could not afford to pay for Sh10 that public toilets charge. "I did not have Sh10 and my phone was switched off, the attendant forced me to surrender the handset so she could let me use the facility," said Atieno.
At 2pm, her waters broke and then pains followed, and with no money and phone, she knew she could not do anything – she was on her own. At this time, she tried standing against a tree near her; there was no one in sight to come to her rescue. After 30 minutes, Atieno gave birth to a baby girl, unassisted and wrapped her with her sweater. She did not expect to give birth to her baby, whom she named Hope, that day. She had gone twice for antenatal checks at Bahati Hospital in Nairobi's Eastlands, where she expected she would bring forth her child. And at Kenyatta National Hospital, where aid workers took her after they were alerted by a Good Samaritan who found she had delivered alone, she stood out from other new mothers surrounded by happy relatives, because of her loneliness. She looked visibly younger than the other women at the hospital ward, but also lacked many of the comforts, privileges, outpouring love and support that other mothers have. All she has for her baby is a Maasai blanket donated to her and a single pack of diapers. "I marveled at my newborn daughter's perfect fingers and toes. I felt lucky, as all new parents do, but also because I had somehow miraculously managed to do this all on my own," said Atieno.
For now, without a job or money to sustain her child, the future remains uncertain. Yet in many ways, Atieno feels like she has already passed the biggest test – safely delivering her baby. "My boss claimed that I was too slow to work at such a place, I felt like she was forcing me to leave the job. I didn't have anywhere else to go," said Atieno, adding that since she separated from the father of her baby in Kisumu, hers has been a life filled with uncertainty. With no relatives in Nairobi, Atieno has to now fend for herself and the baby. She hopes to get a job soon to help her raise her bundle of joy.