Angry youths burn police station in Imo over alleged killing of young man by trigger-happy policeman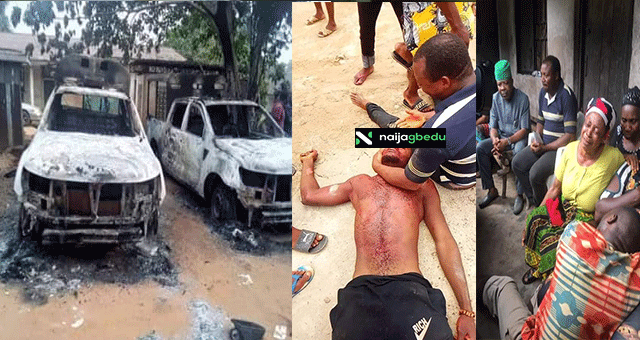 Irate youths on Monday set ablaze a police station in Obowo Local Government Area, after a trigger-happy police officer shot an unarmed young man, Ikenna Ukachi. After killing the young man, the policeman abandoned his rifle and fled before the mob could get to him. The killing of the 25-year-old man triggered a massive outrage in the hitherto peaceful community.
In a spontaneous reaction, the youth marched on the Otoko Police Division to express their grievances.
This attracted other angry members of the community which led to a mob action that resulted in the burning of the police division.
According to reports, the young man was shot and killed by the policeman at the EDS Plaza in Umuokeh, Obowo.
The angry youths blocked the roads passing through their community and leading to the police division with bonfires. On sighting the angry mob, officers and men at the Otoko Police Division fled their duty post for safety.
The angry youths then ransacked the police division, carted away firearms and set it ablaze.
The state Police Commissioner, Rabiu Ladodo, who confirmed the incident said that only about 30 per cent of the division was affected by the fire before it was put out.
The commissioner promised that he was working with the community leaders to recover arms and ammunition carted away from the police division.
"The trigger-happy policeman understands the gravity of his offence and had fled. He has been declared wanted and I have directed that he should be hunted down and arrested. He must face the full weight of the law. We have spread our dragnet, it is just a matter of time and he will be in custody." he said.
Meanwhile, Governor Emeka Ihedioha, on Tuesday afternoon visited the community. The Governor after visiting the Divisional Police Headquarters in Obowo which was set ablaze by the youths, also paid a visit to the bereaved family in Umuebea, Umuoke Obowo. While consoling the family, the governor assured that the trigger happy policeman will be brought to book.
He charged the Commissioner of police in the state to fish out the cop, while urging them to ensure that all those who took the laws into their hands are apprehended. He assured the deceased family that the Government will stand by them and support them at this trying period. He prayed God to grant the soul of Ikenna eternal rest. The Governor was accompanied by the Deputy Governor, Hon. (Engr) Gerald Irona, the Imo State CP, Ibrahim Ladodo, the Chairman Council of Tradition Rulers, Eze Samuel Agunwa Ohiri, the Special Adviser Security, Mr Raymond Nkemdirim, among other Government functionaries.
The Chief of Staff, Chief Chris Okewulonu alongside other leaders of the area were on hand to receive the Governor.