At least 38 dead after Bangladeshi plane with 67 passengers crashes and bursts into flames at airport in Nepa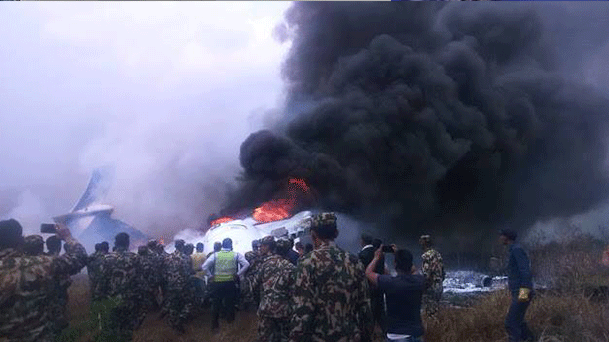 A Bangladeshi plane with 67 passengers on board crashed as it landed at the Kathmandu airport in Nepal on Monday.
The plane, a twin-propeller Bombardier Dash 8 flying from Bangladesh, swerved repeatedly before it crashed,  landing to the east of the runway  and bursting into flames.
Plumes of black smoke could be seen rising from the football pitch where the plane crashed. Firefighters battled to extinguish the burning wreckage and rescue passengers.
A police official says at least 38 people were killed and 23 injured. 10 people remained unaccounted for.
"There were 67 passengers and 4 crew members" aboard the plane, airport spokesman Prem Nath Thakur, initially said.
A spokesman for Dhaka-based US-Bangla Airline says 32 passengers are from Bangladesh, 33 from Nepal and one each from China and the Maldives.
Live footage posted on Facebook showed the towering columns of smoke rising behind the runway, where another plane stood waiting on the tarmac.
Emergency vehicles appeared to be heading into the smoke as people watched from a distance or filmed on their mobile phones.
An airline official said some injured passengers had been taken away by ambulance.
More photos below…