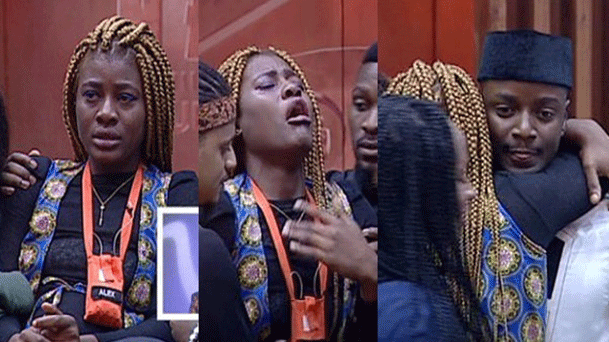 Nigerians and followers of the Big Brother Naija Reality TV show, are beginning to get pissed off over Alex Clingy attitude to Leo.. so they say.
This evening, the show saw the pair, Leo and Ifu Ennada evicted…. which of course saw Alex, burst into tears, saying she'd totally miss leo.
Fans of the show took to Twitter to lambast Alex over her reaction at the exit of Leo.
Here are some of the tweets:
@walesleek: Alex you can substitute your self for Leo and go home ooo . eranko oshi, I'm disgusted
@Dzennypha: Is Alex not mad like this? Can she follow him home?
@TheYomiKazeem: Can Alex just go with him please? Ewo ni radarada?
@asherstuta: They should let Alex follow him biko
@Wengers_Dota: Alex own too much jare #BBNaija
@divadollarbaby: Can somebody slap Alex for me? Like why are you crying like that? Is he dying? Better respect yourself #BBNaija
@je_mc2: Put Alex on suicide watch tonight. The girl wan kpai #BBNaija
@Mowyean: Big Brother Naija 2018 housemate, Alex, is attracting the anger of Nigerians, particularly social media users, following the eviction of Leo and Ifu from the house on Sunday.
@deewin01: Can someone pls tell Alex to respect her destiny and stop crying like cat. Abi would she wanna replace Leo or wetin…!!!…Abeg abeg 🙄🤨🤔 #bbnaija #Deewin
@Leshitobi02: We're tired of Alex cry cry….u have d power to save him last week u didn't, he left u this week u started crying like a food. In lasisi's voice ARE YOU MAD? #BBnaija
@omodollz: Nigerians pls let help alex meet leo fast fast😂😂😂 we should her home next week #BBNaija
@mykeldosu: I love Alex but she loves Leo more. Once you are up for eviction I won't vote u no more. So u can come and meet Leo.I really want you to be happy, it hurts to see you cry baby. #BBNAIJA
@linda22126035: Tobi fan tried Thou, they pulled out the vote just for him. Does Alex have fans?? just asking #BBnaija
@nseibeh: #BBNaija why is Alex acting like she just lost her husband and she's wondering how she's going to take care of her kids?
@faithful098: But Alex is crying for ifu too but you guys don't see that because uor judgment is clouded by hate for her #BBNaija
@Designdivaas1: What Alex needs right now is a Peace mass ticket directly to Nsukka ..no stopping #bbnaija alex
@yayi__11: can't wait for Alex to leave the house after dis pairing game. #BBNaija
Last week, Ahneeka and Angela, left the house.
Recall that, Princess, Bito were also evicted from the show.
Also, K-brule and Khloe were earlier disqualified after receiving three strike for provocation.
'Lifu' are the fourth pair to be evicted in the "Double Wahala" edition.