Breaking:Joy and nerves for Saudi women on their first ever driving lessons before ban is lifted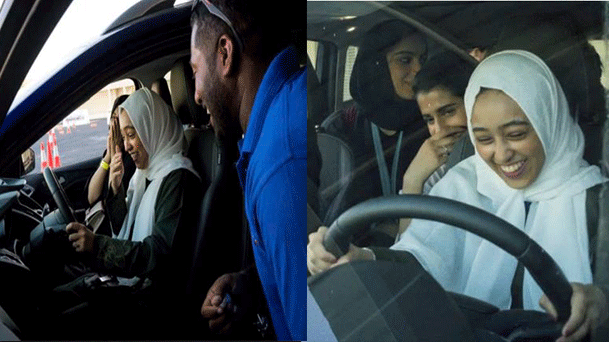 Women can't currently drive in Saudi Arabia but the ban is set to be lifted in June and Saudi women are over the moon about this and have begun taking driving lessons in preparation for that time.
Last year Saudi Arabia promised to lift a longstanding ban on female drivers as part of a series of widespread reforms designed to ease gender segregation in the country. From June the ultra-conservative kingdom will allow women to drive cars for the first time ever.
Saudi women were ecstatic to take to the roads as they learned to drive for the first time in their lives on the campus of Effat University on Monday.
Around 15 female students took part in the lesson, which was run by the Ford Motor Company and designed for woman with no prior experience of driving, aiming to improve driver safety.
The workshop began with a talk about road safety, car accidents and texting at the wheel before the women undertook a number of practical lessons which included wearing goggles which made it feel like they were drunk. Before long the women were given the chance to drive a car through cones in a car park.
Architecture student Ms. Alzahrani told the New York Times: "It was so amazing. I loved it. It felt good to be behind the wheel."
Currently, women in Saudi Arabia are banned from driving and have to rely on lifts from family members to ferry them around. But in September King Salman announced the ban will be lifted in a historic move aimed at giving females greater rights in the country. It comes as part of a wider push by the king to lift a number of repressive rules still enforced in the highly conservative country.
A ban on cinemas was lifted last year, allowing people to legally watch films, while in the summer the country said women will be allowed into three sports stadiums.