Church declares one month of deliverance service to cast out "The Marlian Spirit" which they referred to as a "brand new virus"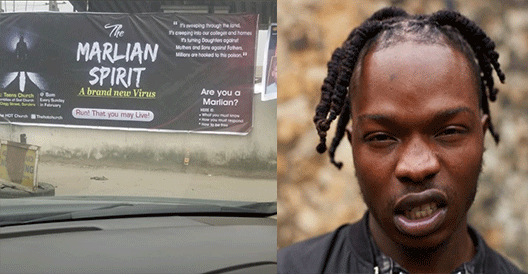 A church in Surulere, Lagos, organized a deliverance service for one month to cast out "The Marlian Spirit."
A banner put up by The HOT Church in Surulere, Lagos, revealed that the deliverance service will hold every Sunday in the month of February.
The service is to tackle the "brand new virus" known as "the Marlian spirit."
The banner also promised to provide solutions for people already possessed by the Marlian spirit.
The banner reads:
Are you a Marlian?
Here is:
what you must know
How you must respond
How to be free
Describing the Marlian spirit, the Church added on the banner: "It's sweeping through the land, it's creeping into our colleges and homes, it's turning daughters against mothers and sons against fathers. Millions are hooked to this poison."
This is not the first time men of God are demonizing Naira Marley and his fans, known as Marlians. Apostle Chris Omashola recently said God revealed to him that Naira Marley is a demon sent to derail the destiny of Nigerian youths. Also, earlier this year, parents narrated how female secondary school students were suspended for allegedly being members of a Marlian cult in school