Comedian Arole shares how he was nearly killed at an event with Reekado Banks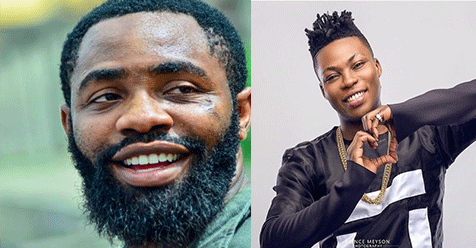 Comedian Arole has told of his near-death experience and how he got the scar on his face.
He said it happened 2 years ago when he went for an event at a university with Reekado Banks. While there, hoodlums attacked them, demanding for money. The louts then proceeded to hurl a stone at the bus they were in and the glass shattered on Arole. He woke in the hospital with broken bones, cuts, and bruises.
He wrote:
Today makes it exactly 2 years that I would have been BURIED. But the Lord kept me and saved me by his grace. People have asked me all over the world the cause of the SCAR on my face. "I went for an event with @reekadobanks at a university and hoodlums attacked us that we should give money, before we could talk, they threw an heavy stone at our coaster bus and the whole glass broke on me.
I woke up in the hospital, my face was seriously injured, I had a broken bone and I couldn't bath or raise my hand for one month. God kept me, his grace was there for me. I want to appreciate God for his unending mercies.
Help me thank God for keeping me alive. Big thanks to @mirah_balogun @asiricomedy@doctorfrick @official_itouche for being there for me during this period. Big thanks to all my fans and friends around the world. All glory to God for his grace.