Comedian Che Michael responds with counter demands after Kanye West offered to double his salary if he stopped working with Kim K's boyfriend Pete Davidson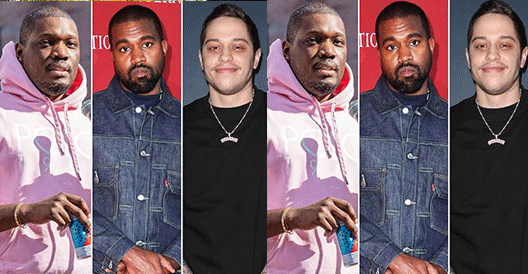 "Saturday Night Live" comedian Michael Che has responded with counter demands after rapper Kanye West offered to double his salary if he stopped working with actor Pete Davidson.

Kanye posted and deleted a series of posts over the weekend blasting Davidson, who is now dating Kim Kardashian, who wants to divorce West.

In one of the posts which he aimed at Chr Kanye said;
"I'LL DOUBLE WHATEVER THEY PAYING YOU JUST SO YOU DONT HAVE TO LOOK AT THAT PAWN EVER AGAIN BIG LOVE,"

To prove he was in control of his Instagram account, West also posted photos of himself holding a notepad with Sunday's date written on it to show his account wasn't hacked.

Che has now responded by posting photos of handwritten messages on a notepad similar to West's, starting with one the reads "Sorry Ye, but I would never betray my friends."

But a second photo continues "For anything less than triple salary."

In another note, Che claims that means $90,000 per year.
He also wrote that West would also have to include medical and dental insurance, four weeks' vacation and a corner office.

He then told West that he'd want a pair of Nike Air Yeezy 2 Red October sneakers from the musician's collaboration with the sporting brand.

"Size 12," Che added.

He also satirically added that West would need to record some music for Che's band "The Slapp Butts," then demanded that West give him advance notice on what he's going to wear so that Che can don the same outfit so that they can look like twins.

Only then, Che joked, not only would he ditch Davidson — he'd 'rambo' the whole building.