Dad is caught on video teaching his toddler daughter to smoke a cigarette (video)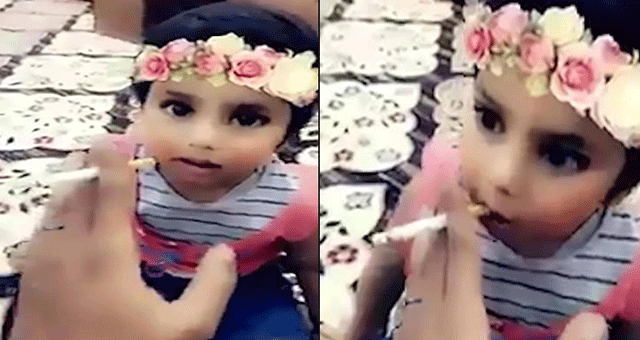 A father was filmed teaching his little daughter how to smoke a cigarette and the offensive video has left people outraged.
The video, believed to have been taken by the father, shows a man's hand holding a cigarette to the little girl's lips. The girl, who is believed to be about 2 years, takes a puff and breathes out the fumes before looking to her dad for approval. He then offers her a second drag.
The sick footage, believed to have been filmed in Saudi Arabia has gone viral and infuriated viewers on social media.
One social media user commented: "That is disgusting. The dad should be locked up, it's child abuse!"
After the video went viral, cops issued a warrant for the man's arrest and put out an appeal for information through local media. Days after, police said they arrested a man and are questioning him.
Watch the offensive video below.