Diezani is being protected by forces abroad- EFCC chairman, Ibrahim Magu, says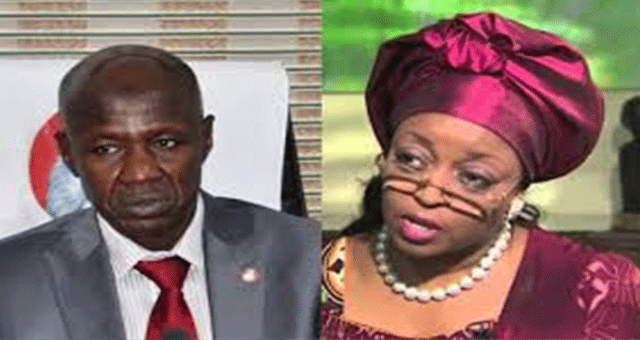 Acting chairman of the Economic and Financial Crimes Commission (EFCC), Ibrahim Magu, has said it would be difficult for his agency to arrest former Minister of Petroleum Resources, Diezani Alison-Madueke, because according to him, she is being protected by some powerful forces abroad.
Magu who was reacting to the court order that the EFCC and other security agencies should produce Alison-Madueke within 72 hours, said it would have been an easy task if she was not outside Nigeria.
Recall that a Federal High Court in Abuja had on Monday December 3rd, ordered the EFCC and other security agencies to produce Dieziani and her alleged accomplice, Olajide Omokore, in court for them to be arraigned on five counts bordering on conspiracy and illegal act of accepting and giving gratifications.
Speaking during an interactive session with journalists in Abuja on Wednesday, December 5th, Magu said the anti-graft agency is not in the habit of not complying with court orders but in the case of Alison-Madueke, "our problem is that she is another man's country".
"I need less than 72 hours to produce Deziani. How can I get her if she is being protected by forces outside this country?. This is my predicament otherwise if it is 72 hours, if she is here, I will just get her."
The EFCC boss said another agency was working on extraditing Alison-Madueke.
"We will comply with the court order. In fact, it is in our character to do so. If we won't comply with the court order, that means we have reasons to appeal against the court decision. Another law enforcement agency is in the matter. You know she is in the United Kingdom. And we are making preparations to get her. We have already gone to the court, in fact that was our request for extradition that compelled the court to issue a warrant of arrest against her.
I need just less than an hour. If she is here, I will get her immediately and take her before the court. Our problem is that she is another man's country. Nobody can say she has not committed anything. All the neighbouring countries in Europe and America and all the law enforcement agencies in the world have knowledge of Diezani's money laundering activities." he said