Dog The Bounty Hunter 'proposes' to his son's ex-girlfriend who served as his late wife's bridesmaid at their wedding (Video)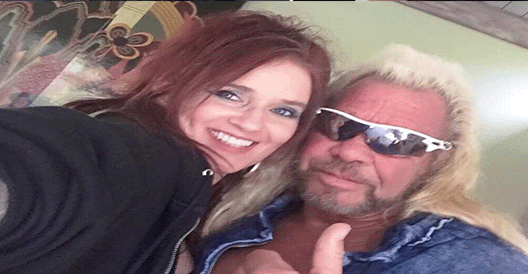 Duane 'Dog the Bounty Hunter' Chapman has 'proposed' to his son's ex-girlfriend Moon Angell just seven months after the death of his wife, Beth Chapman.
In a teaser clip from The Dr. Oz Show posted on Twitter on Tuesday, the 66-year-old television personality appeared to pop the question to his girlfriend.
Chapman could be seen turning to his girlfriend before he then asked: '"I am a lot happier with her around. Moon Angell, will you marry me?" The proposal left his love-interest in shock as she turned to him.
Sources close to Dog told TMZ on Wednesday that they are not engaged, adding that the reality star was only caught up in the moment and did not give her a ring during the taping last week.
But production insiders on the set of The Dr. Oz Show believe the proposal was actually legit at the time. They also claim that Dog revealed he was talking to God in the bathroom during a break and that God told him that he should propose.
The proposal comes seven months after the death of his fifth wife died after battling throat and lung cancer for two years.
Moon Angel, who previously dated Chapman's son was also one of Beth's closest friends and both felt like they were sisters, according to his daughter Lyssa. In 2014, Moon was even a bridesmaid at Dog and Beth's wedding.
When Beth died, Angel, who reportedly worked as an assistant for her over several years took to Twitter to mourn her death, writing: 'THE WHOLE WORLD LOST A MIGHTY WARRIOR GODDESS FULL OF STRENGTH BEYOND #'s. I SEE THE WAVE FORM'N ACROSS AMERI [American flag Emoji] & CANADA [Canadian flag Emoji]! STAND UP! STAND UP! ALICE ELIZA'BETH' CHAPMAN WEEEEE ALLLLLL LOVE YOU TA'PIECES! YOU SAY YOU ONLY REGRET NOT WRITING A BOOK … Oh Beth'i U R THE BOOK.'
Their appearance on TV came just weeks after Dog defended his romance with his son's ex-girlfriend and BFF to his late wife, saying: 'Who knows what my future holds, but right now I need her,' the reality TV personality, 66, told Radar. 'There will never be another Mrs. Dog but that doesn't mean I have to be so sad.'
The veteran bounty hunter praised Moon as 'a trustworthy and loyal friend to [him] for over 20 years,' and 'experienced' with him and the family dynamic.
'She has been with my family through many ups and downs,' the Dog's Most Wanted personality said. 'All my children are grown and gone on their own, there's no one left to help me!'
He even went on to say that he believes the lord answered his prayers in the wake of his wife death. 'I know Almighty God hears my broken heart and I didn't ask him for another Mrs. Chapman, but I asked him for a friend and He gave me Moon,' said Chapman.