Eight shot dead and two injured in spas and massage parlour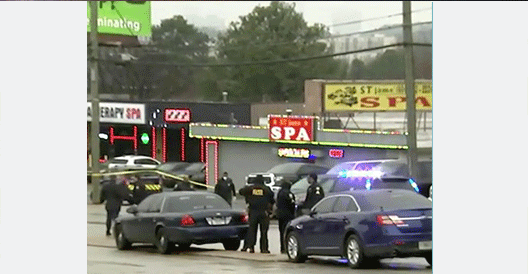 Eight people have been shot dead in three incidents in Atlanta and police has arrested a young man.
Robert Aaron Long, 21, of Woodstock, Georgia, was arrested in southwest Georgia, around 150 miles south of Atlanta, and taken into custody in Crisp County, Cherokee County sheriff Captain Jay Baker said.
CCTV images from the scene of the incident had been released by the local police in hope of finding the suspect in relation to the incident.
It is understood that the shooter entered the massage parlour on Georgia Highway 92, just outside Woodstock, on Tuesday, March 16, at around 4.50pm local time.
According to Fox5, Officers said that CCTV images show the suspect entering a dark-colored Hyundai SUV.
The CCTV clips released by the police, show a man wearing sunglasses and dark/pink top.
Police officers have also confirmed that there has been another series of shootings at two spas across the road from each other in Atlanta hours later.
Officers said three women were killed at the Gold Spa and one was killed across the street at the Aromatherapy Spa on Piedmont Road, near the junction of Cheshire Bridge Road.
According to Fox5 an emergency call was made to 911 at around 6pm on Tuesday, March 16, indicating shots had been fired.
Police say many of the women killed in the shootings were Asian.
The first incident happened at around 6pm, at the Gold Spa.
When police arrived, they found three women who died from their wounds and received a second call from the Aromatherapy Spa across the street.
They responded immediately to find a woman had also been gunned down.
The road was closed down with heavy police in the area, but authorities said there was no immediate danger to the public.
The spa shootings came hours after three people were killed at the massage parlour in Cherokee County.