Father 'slits wife and teenage daughter's throats' before hero neighbours pinned him down in the street as he tried to escape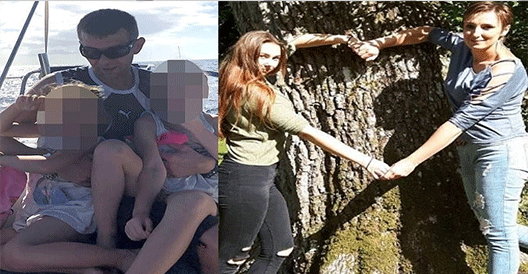 A father allegedly slit the throats of his wife and teenage daughter before his neighbours chased him down and pinned him to the ground as he tried to flee the scene.
Police were reportedly called to a disturbance shortly before 3 pm on Monday after locals reported terrified screams from a house in Salisbury, Wiltshire.
According to The Sun, officers discovered the body of 18-year-old Nikoleta Zdun at the property, while Marcin's wife Aneta Zdun was found alive but died a short time later despite desperate efforts by paramedics to save her.
It was claimed that their throats had been cut.
Two distraught young girls, aged five and six, were heard screaming in terror before they fled to safety and were consoled in the street by a concerned neighbour.
Horrified witnesses claim the two distraught little girls fled the house screaming in terror before allegedly telling a neighbour, 'Mummy isn't very well'
Soon after, a man was then seen trying to escape from the property before he was chased down by horrified onlookers who punched him in the face and pinned him to the ground until police arrived.
One neighbour said: "I heard terrified screams from inside the property and a man rushed out.
"He ran off and was chased by neighbours and punched in the face before some neighbours pinned him to the ground and waited for police to arrest him."
The source added: "He has cut their throats with the two little girls in the house.The noise was horrendous you could hear them screaming for their lives.
"He killed his wife and his 18-year-old daughter.
"A neighbour went into the house and found the girls, aged five and six, and brought them outside.
"They were distraught, they were screaming the place down. The man ran off and he was chased by neighbours and punched in the face before some neighbours pinned him to the ground.
"It's just heartbreaking, these two little girls now have no sister, no father, no mother."
Another neighbour, Mark Riordan, said his mum, Maria, 70, was "traumatised" after hearing screams from the property.
Mr Riordan, who was at work at the time, said: "My mother is in shock at the moment. She is traumatised by this. She heard the screams but couldn't do anything.
"It was unfortunately quite usual for there to be loud quarrelling at their house. It was usually the children shouting at their parents day and night. But what happened yesterday was something else."
The man in his 30s was arrested on suspicion of murder and taken into custody at Melksham Police Station.
DCI Darren Hannant, of Wiltshire Police, said there is "no risk posed to the wider community".
He said: "Naturally people will be alarmed due to the large police presence in the area as we carry out our enquiries.
"I would like to reiterate that we have made an arrest and there is no risk posed to the wider community."