Former Barcelona defender, Dani Alves reportedly signing autographs for fellow inmates in prison after being remanded over alleged sexual assault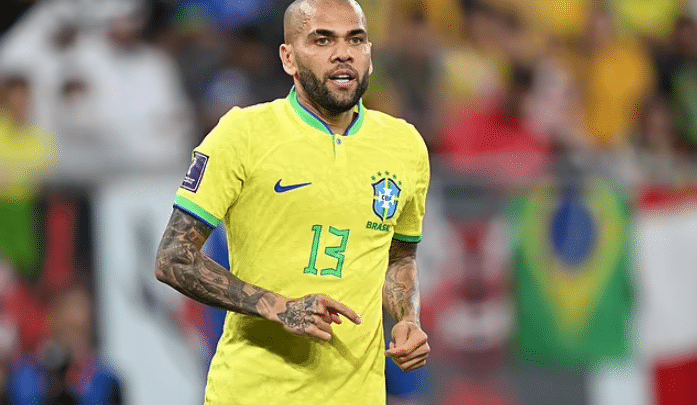 Former Barcelona and Brazil defender, Dani Alves has reportedly been signing autographs for fellow inmates in prison.
Alves, 39, is in prison in Spain after being detained by local police and jailed without bail pending trial over an alleged sexual assault of a woman in a Barcelona nightclub.
The alleged victim filed a complaint earlier this month and the case remains open, Catalonia's court system said in a statement last week.
Spanish outlet Telecinco reported that Alves – who was denied bail by a Barcelona judge due to the perceived high risk of him leaving the country, has been signing autographs in prison.
The report said how one former inmate showed a shirt signed by the 126-time Brazil international upon leaving jail.
The unnamed inmate didn't share a cell with Alves but got his shirt signed through another prisoner.
He also revealed how the right-back was accepted in prison and no one has so far called him a 'rapist'.
The report went on to say how Alves has since been moved from the Brians 1 prison he was in to Brians 2 for 'security reasons'.
The alleged victim of the sexual assault said the former Barcelona right-back slapped her and raped her in the toilets of the Spanish city's Sutton nightclub in December.
Alves, 39, has denied any wrongdoing, and last Friday, he appeared in front of a Barcelona judge after local police detained and questioned him, before he was then jailed without bail pending trial.
Alves also told Antena 3 TV earlier this month that he was at the club with other people and denied any such accusations regarding his behaviour.
'I was dancing and having a good time without invading anyone's space,' he said. 'I don't know who this lady is… How could I do that to a woman? No.'
Alves was part of Brazil's squad for the World Cup in Qatar last month and he has since had his contract at Mexican side Pumas terminated after being jailed. He played for Barcelona from 2008-2016 and briefly returned to the La Liga team for the 2021-22 season.