Four years after she was brutally tortured, starved by her employer, domestic worker graduates with top honours from university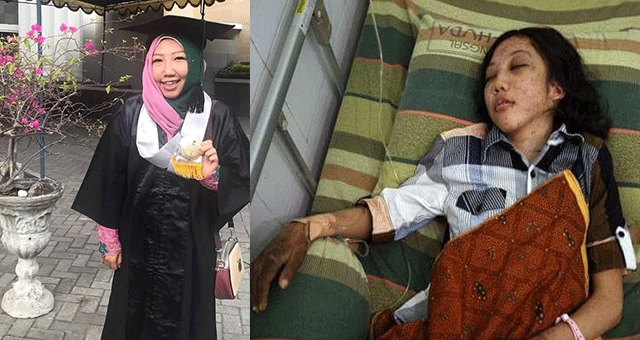 A former Indonesian domestic worker, Erwiana Sulistyaningsih graduated cum laude from Sanata Dharma University, four years after sustaining serious injuries inflicted upon her by an abusive employer.
In a heartwarming addendum to a story that sparked international outrage, Sulistyaningsih, who suffered horrific abuse at the hands of her employer four years ago graduated with top honours with a degree in business management last Friday.
In a Facebook post from Friday, the 28-year-old wrote that she was able to pursue her degree thanks to a scholarship by the university.
In the post, she thanked God, the university, friends, family, and a number of migrant worker organizations, and pledged to use her degree to help others.
"God willing I will dedicate my time for the people, and I will continue helping in the collective struggles of those who are oppressed," she said.
Sulistyaningsih's nightmare began in 2013 when took up a job as a domestic worker in Hong Kong to earn money to pay for university tuition.
At the hands of her employer, Law Wan-tung, she suffered abuse including being fed nothing but bread and rice, sleeping only four hours a day, not being given a day off, and being beaten so badly that she was knocked unconscious.
Her plight sparked international outrage in 2014 after she was admitted to hospital in Indonesia in a critical condition, and pictures of her injuries were made public.
She became the face of a movement determined to force change for working conditions for Hong Kong's domestic workers.
Sulistyaningsih's employer Law Wan-tung was convicted of grievous bodily harm, assault, criminal intimidation and failure to pay wages in 2015 .
Law was sentenced to six years in jail, and was ordered to pay around HK$809,000 (US$103,000) in damages for the "inhumane" abuse, which lasted for eight months.
Sulistyaningsih told a Hong Kong court in December how she lived on nothing but bread and rice for months, slept only four hours a day and was beaten so badly by her employer Law Wan-tung that she was knocked unconscious.
During the six-week trial, prosecutors said Law, 44, turned household items such as a mop, a ruler and a clothes hanger into "weapons" against her maids.
Sulistyaningsih hailed the court's guilty verdict but called for reforms to ensure Hong Kong employers no longer treated domestic workers "like slaves".
Sulistyaningsih has also said that Indonesia must not shirk its responsibilities to protect its citizens who travel abroad to work.
More photos from her graduation below…