German Chancellor Angela Merkel seen shaking in public for second time in two weeks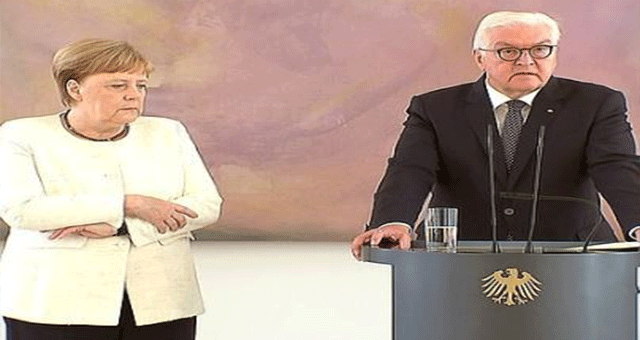 German Chancellor Angela Merkel has been seen shaking uncontrollably in public for the second time this month as fears grow for her health.
The second video shows Merkel, 64, trembling as she met President Frank-Walter Steinmeier on Thursday; but her spokesman claimed soon after that the German chancellor was 'fine'.
In the video she can be seen folding her arms in an apparent attempt to stop her hands and body from violently vibrating, a close-up footage released today shows the difficulty she is having trying to keep the quivering under control as she grips her arms together, an aide then rushed to her side to offer her a glass of water, which she declines.
Last time she was seen shaking she claimed she had been suffering from dehydration. That was ten days ago when she met visiting Ukrainian President Volodymyr Zelenskiy. She later claimed to have felt better after drinking some water
See the new video below…