Gernot Rohr reacts after top neurosurgeon warns against rushing Victor Osimhen back to the field following brain trauma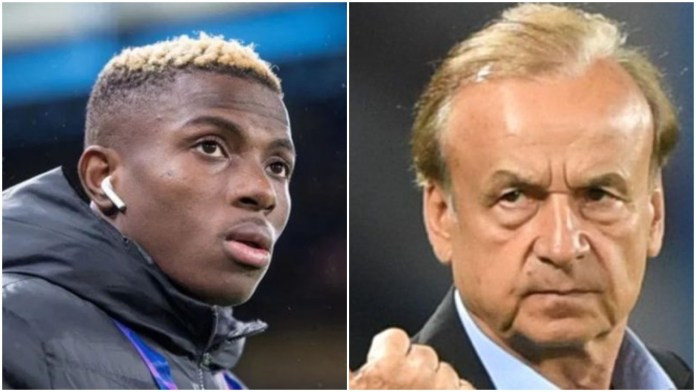 Nigeria national team coach, Gernot Rohr has reacted after a top Neursurgeon warned against rushing Napoli striker Victor Osimhen back to the field after he sustained brain trauma following a collision with another player in a league game last month.

The Italian neurosurgeon, Alfredo Bucciero who treated Victor Osimhen said he won't give Osimhen the all-clear unless he is absolutely sure there are no lasting effects from being knocked unconscious after falling awkwardly and hitting his head on the ground, leaving him with head trauma and no memory of the accident.
"He returned to training, but before we send him back out onto the pitch to play, we need to make absolutely sure he is in perfect condition." The doctor told Radio Marte.

"There will be another MRI scan and then we'll make a decision, of course in conjunction with the Napoli medical staff.

"The issue now is about prevention, because he doesn't need any treatment at this stage. We just need to monitor the bioelectrical activity, which can be knocked out of sync following a head trauma.

"We just want absolute certainty that Osimhen is fine before we let him resume playing."

The 22-year-old striker who joined for a club-record fee of €80 million has struggled to play regularly, owing to injury, suspension and coronavirus-related problems.
He has not featured for Gennaro Gattuso's men since February 21 and Rohr says Napoli the striker has been unlucky and everyone will soon feel his absence.

"Victor Osimhen's season has so far been unlucky, between injuries and Covid. Already in October, he could not play with our national team two games, in Austria, because he was in quarantine after some of his teammates at Napoli had contracted Covid," Rohr told Kiss Kiss Napoli.

"I spoke with the boy and he told me that he is physically and mentally fine. He is ready to return to the field with Napoli and also with the national team.

"Victor can play as a central striker in both 4-3-3 and 4-2-3-1. They are two game systems that we use in the national team. He has been a permanent player in the Nigerian national team for five years.

"His spirit of sacrifice is an example for all. You will soon see his real value. In the national team he is our point of reference for the attack, he has collected an important legacy in that role, that of [Odion] Ighalo.

"In the next qualifying matches for the African Cup, we hope to find him with great energy. Napoli are a great team but have been unlucky this season.

"Gattuso is a good coach and Victor told me he trusts him a lot and what he's teaching him. I think he can get results already this season.

"I played against Maradona in Naples with Bordeaux in the Uefa Cup. I didn't mark him directly but I remember that Napoli were a very strong team, one of the strongest in that historical moment and deserved to win the Cup that year."

Napoli will take on Bologna at Stadio San Paolo on Sunday.