Heartbreaking photo of her terminally-ill dad crying next to her cancer-ridden daughter, 5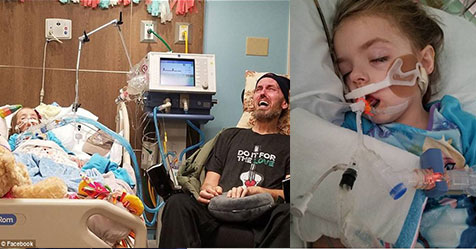 "In a few days I'll have to bury this beautiful girl… then I will have to bury my father," those were the words of a heartbroken woman who has just discovered that her daughter, 5, and her father will both be dead soon.
Ally Parker's five-year-old daughter is fighting a losing battle against an aggressive form of brain cancer, while her father is terminally-ill with a motor neuron disease. The mother from Florida now faces the grim prospect of having to bury both her daughter and father within weeks of each other.
She uploaded a gut-wrenching photo to Facebook on Sunday showing her father, Sean Peterson, wailing by his granddaughter's hospital bed. The agony on his face is so gut-wrenching and conveys the pain the whole family is forced to endure.
On December 6, Braylynn Lawhon was diagnosed with Diffuse Intrinsic Pontine Glioma – the most deadly form of brain cancer which has no cure and no survival rate.
Parker and her daughter on her sick bed
Parker posted about the little girl's plight in a bid to raise awareness.
She wrote in a Facebook post: "We all thought that they would outlive the rest of us…and we certainly never thought that my precious little Braylynn would be the first to go. Last year was hard for us, but I can't even begin to explain how difficult this year will be and has already been.
"In a few days I will have to bury this beautiful little girl. Months, maybe even weeks, later, I will have to bury my father. Both of my heroes, gone, within the same year.
"How could this happen to us? What did any of us do to deserve THIS? Why do they have to leave us? What are we supposed to do? I refuse to believe that there is a reason for this. This world is a terrible place."