"I got assaulted by the authorities – the police" Arewa MeToo activist narrates how she was allegely accused of lesbianism and beaten up for organizing rally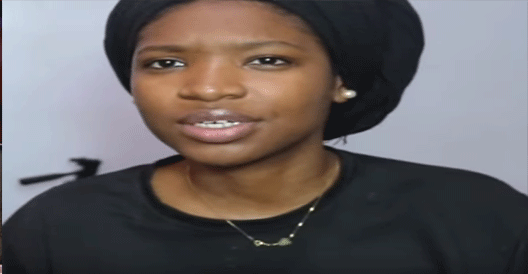 Sadiya Taheer, an activist in northern Nigeria, has narrated how she was allegedly abused by about 20 policemen in Sokoto state and accused of lesbianism for organizing a rally to speak up against violence in the north.
Sadiya has angered a lot of people in northern Nigeria with her activism, especially because of how it has emboldened a number of Arewa women to begin opening up about their abuse.
A number of people spoke against it and cautioned women against making their stories of abuse public.
Taking the Arewa MeToo movement further, a standstill rally was planned to call for the domestication of the VAPP Act (Violence Against Persons Prohibition Act). The Senate passed the VAPP bill in 2015 but it hasn't been domesticated.
Sadiya was the leader of Arewa MeToo movement in Sokoto so she was in charge of organizing the standstill rally in Sokoto. The rally was supposed to hold on Monday, November 25, in 8 northern states.
However, as the day for the rally neared, a number of northerners took to Twitter to condemn it and claim it was an LGBTQ rights rally.

Sadiya said they followed the right procedure before the rally by sending letter twice to the House of Assembly. They also sent letters to the police commissioner's office and to the DSS.
"All of these people told me that 'yes, we've got you'," Sadiya said.
A day before the rally, she said she called all the offices she had sent letters to. On the day of the rally, she claimed she went to the Police Commissioner's office but they intentionally kept passing her round to waste her time.
According to Sadiya, she eventually went to the rally ground in front of the State House of Assembly. There, she said she met the DPO at the rally ground dispersing people who came for the rally and he told her that the police commissioner – who had told her she had his support – told him not to let them hold the rally because they are trying to promote the LGBTQ community.
She said they left the rally ground and were about leaving the area. But the policemen allegedly "got a phone call" and all started coming towards them.
When the officers got close enough, they allegedly attacked her and other members of her team. She claims they collected their placards from them and ripped them apart.
According to Sadiya, they demanded that she gives them her phone and her folded banner but she refused and that was when all of them allegedly attacked her and started beating her.
She explained: "If not for the two muscular people in that our members they would have torn me apart. They beat me up. When I came back home I could barely do anything. In fact, I had to go to the hospital straight from there."
Sadiya said that she and her team received death threats and hate mails because of the rally. She said she got attacked while driving from the doctor's office as people tried to bash her car, and called her names, including "lesbian".
Soon, on Twitter, people began talking about the failed Sokoto rally. However, the rally held in other northern states as planned.
Sadiya went on in her video to allege that the policemen who attacked her a short distance away from the rally ground also arrested a member of her team for filming the assault. They also detained two other members of the group who went to bail the one arrested.
She said that asides defamation of character, the people opposing the rally took her photo from Instagram and began spreading it around, claiming she's promoting LGBTQ in Sokoto state.
Sadiya concluded that the reason for the strong opposition to the rally is that most of the people opposing are abusers and fear that they will be prosecuted if the VAPP act is domesticated.
She pointed out that in the same Sokoto state, Almajiris get raped by men who take turns, yet the authorities do not come out to stop them. However, they could mobilize policemen to stop her group from seeking justice for the abused.
She added that she overheard one of the men saying over the phone that they understand what the rally is about but they can't let it hold.
She claimed the man said: "Look at her telling women to have voice when they are being raped. How can we have that insubordination and disobedience in our culture? If she's our sister, how can we marry her off when she's voicing out that she's been raped?"
Sadiya further claimed that the authorities bribed and threatened the media houses to discredit her.
She said: "These are people that have high stakes in the government. These are people who are high profile so literally, they will listen to them. Who will listen to little me?"
She continued: "The police were beating me up, they were violently beating me up for standing up against violence. So you see the irony of this. They were sponsored by the high profile people in this Sokoto state even though they know what the VAPP act is."
She said she and her family have been receiving threats since then, adding that they threatened to attack her brother, sister, mum, and dad, and to also hurt her (Sadiya).
She concluded: "Nigeria is as corrupt as it gets, even the police."
Below are reactions from Arewa Twitter users to the rally and a video of Sadiya narrating how she and other activists were abused by the police.
Listen to Sadiya speak in the video below.