It's 'Blatantly racist and misogynistic': Serena Williams' husband breaks his silence over the controversial Australian cartoon of the tennis star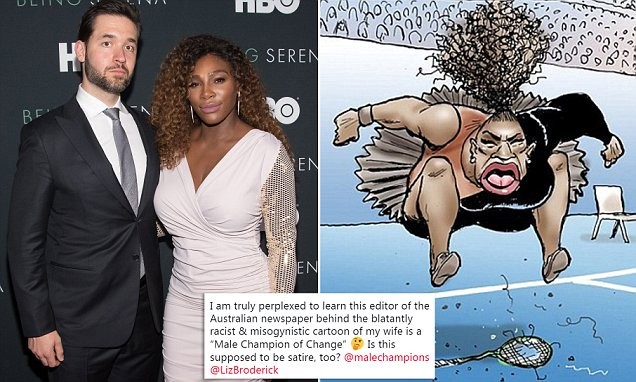 Tennis legend, Serena William' husband has broken his silence over the controversial cartoon of his wife which was drawn by Herald Sun cartoonist Mark Knight following her meltdown at the US Open.
In the cartoon, the tennis legend is depicted as a baby angrily jumping on her smashed racket with a pacifier nearby. In the background, her opponent Naomi Osaka is depicted as white with straight, blonde hair facing towards umpire Carlos Ramos who pleads: "Can you just let her win?"
Alexis Ohanian Sr, 35, claimed in a Twitter post that cartoon was 'blatantly racist' and 'misogynistic.'
'I am truly perplexed to learn this editor of the Australian newspaper behind the blatantly racist and misogynistic cartoon of my wife is a "Male Champion of Change",' he wrote.
Herald Sun editor Damon Johnston has since defended the cartoon and Mr Knight following the outrage it generated on social media.
'A champion tennis player had a mega tantrum on the world stage, and Mark's cartoon depicted that. It had nothing to do with gender or race,' he said.