Japanese billionaire, 44, Yusaku Maezawa is searching for a new girlfriend to join him on six-day flight around the moon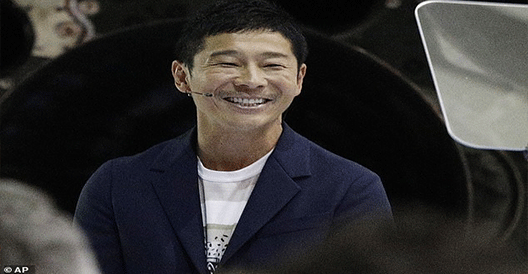 Japanese billionaire, Yusaku Maezawa,who recently split from actress girlfriend Ayame Goriki, 27, is searching for a new girlfriend 'who wishes for world peace' to join him on a six-day flight around the moon in 2023.
The 44-year-old, who is worth an estimated £1.5billion, want a new lover aged over 20 to join him on an an-out-of-this-world adventure which will be the subject of a new documentary. The lucky lady must 'be interested in going into space and able to participate in the preparation for it'.
The eclectic billionaire will be flying around the moon in 2023 as the first private passenger with Elon Musk's SpaceX and he also hopes to take artists with him to inspire works, in a project he dubbed Dear Moon.
Applications for Full Moon Lovers close on January 17 and Maezawa will select his partner by the end of March.
This comes days after he announced he was going to out $9 million to his Twitter followers to see if the money makes them happier.
In 2017, he spent £85million on a Jean-Michel Basquiat painting, the highest pricer ever paid at auction for a work by an American artist.