Photo-Laurence Fishburne's wife confirms they have ended their 15-year marriage, after photos of her kissing another man surfaces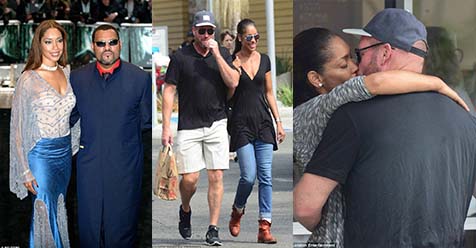 Laurence Fishburne's wife, actress Gina Torres, 48, was spotted kissing a mystery man during a lunch date in Studio City last week. The pictures were originally released by Page Six with Gina gazing into the other man's eyes and kissing him.
The estranged wife of Fishburne looked cozy with her new man as the two couldn't keep their eyes or hands off each other
.
After their lunch date, where the couple were clearly smitten and couldn't keep their hands off each other, they made a stop at Trader Joes in West Hollywood and were spotted kissing and laughing by her car.
After the pictures were released, Gina Torres released an official statement revealing that she and Fishburne had quietly parted ways last year.
Gina confirmed to People magazine:
'With heavy hearts, Laurence and I quietly separated and began the dissolution of our marriage in the early fall of last year.
'There are no bad guys here. Only a love story with a different ending than either one of us had expected.
'Happily, however, our family remains intact and we will continue to raise our daughter together with love and joy and awe.
'As well as raise each other up with respect and love and the continued understanding that we're in this together, if not side by side.'
Gina also alluded to marital woes when she quit TV series Suits – which she starred in alongside Prince Harry's girlfriend Meghan Markle – citing personal reasons.
She told NY Times:
'My personal life needed to be tended to.'
Torres and Fishburne, 56, married in 2002 and share one daughter, Delilah Fishburne. The pair – who married in 2002 – have strangely not made any public appearance together since December 2015.