The Legendary football player-George Weah wins Liberia presidential election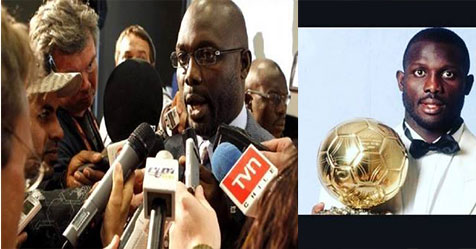 Retired proficient footballer turned politician, George Manneh Weah, has reportedly won the Liberia Presidential election, even as the electoral commission has continued to stall the announcement.
In 2011 he also ran for the vice-president role on the losing ticket but now, at the age of 51, is strongly placed to emerge as the successor to Ellen Sirleaf Johnson.
Whoa! George Weah is the new president of Liberia!
A Ballon d'Or at United Nations!
His closest rival Joseph Boakai, Sirleaf's vice president, is trailing the African football genius who enjoyed footballing stints at Monaco, PSG, Marseille (France).
The former Chelsea and Manchester City player was a three-time winner of the African Footballer of the Year prize.
He was crowned World Footballer of the Year in 1995, comfortably beating German legend Jürgen Klinsmann into second place.
Other footballers to enter politics include: – Pelé and Zico have both served as Brazilian sports ministers.