Man drugs, rapes, impregnates and forces his daughter to abort baby in Delta State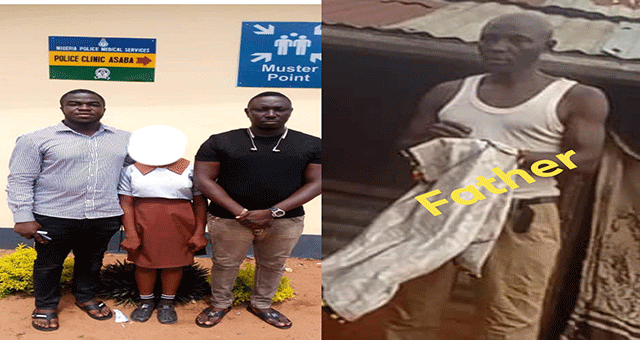 The Delta State Police Command has arrested a man who drugged, raped, impregnated and subsequently forced his 15-year-old daughter to abort the baby in connivance with his wife.
The little girl reportedly became an unofficial second wife to her father, after her first abuse when she was 10.
Activist Gwamnishu Harrison who initiated the arrest of the girl's parents, said they will be charged to court on Monday 8th June, 2019. The couple's 15-year-old daughter is currently undergoing therapy and medical treatment.
He wrote;
While lending voice to #Khloe in Abuja, we received a disturbing complaint from Alvadora Help Foundation about a 15year old girl been sexually abused by her Father.

Our team led by BBI Delta State Director Iyke Omenogor quickly reported at B Divisional Police station Asaba. (BBI Complainant). The victim was raped when she was 10 by her own father who drugged her food. The victim. She told her mother but was told to keep quiet. The abuse continued, pregnancy removed, the daughter became a second wife and a sex slave to her own father who ought to protect her.

She said. "I just see myself wake up tired, with blood/Sperm all over my private part. My mother is aware of everything, my grandparents are aware, my elder brother is aware and our pastor also aware".

The victim is now in our facility currently undergoing therapy and medical treatment. Your support will be appreciated. Her father and mother are currently in Police custody, the case will be charged to court on Monday 8th June, 2019.

We urged Delta State Government to partner with us in the #WarAgainstPeadophile as we build sexual assault centre for victims."