Man dumps unconscious woman by the roadside in Nairobi(Photos)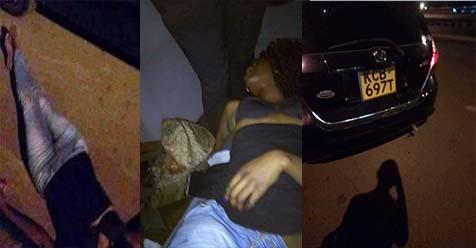 Photos of a woman dumped by the roadside at Roysambu, Nairobi have been doing the round on social media. The driver of the car pictured allegedly dumped the unconscious woman 

on Tuesday
 night, September 26.
Some concerned witnesses speculated that the woman's lover had dumped her at Roysambu after drugging her.
"Earlier this evening, the driver of car registration number KCB 697T dumped an unconscious lady by the roadside at Roysambu. While taking off, the driver realised people were taking pictures of him and the registration plate. He consequently got out of the car, pretending to be a concerned citizen. During a commotion, which had ensued, the driver managed to take off. Share this widely to catch the man," one witness wrote on social media.
However, police have since refuted the claims, adding that the driver and woman, who were both drunk were arrested for disorderly conduct.
Authorities added that the woman had been taken to Neema Hospital in Kahawa Sukari for emergency care before being apprehended.
The two will be arraigned for disorderly conduct on Thursday, September 28, Nairobi Police boss, Japheth Koome, said.
"The suspects were too drunk, which led to them misbehaving in public. They will be arraigned in court tomorrow (Thursday, September 28) to answer to charges of disorderly conduct. The man was driving under the influence of alcohol," he added.