Masquerade Posts Photos Of Himself Carrying His Beautiful Girlfriend On Facebook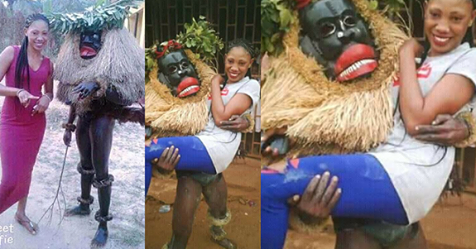 A young lady has done the unthinkable as she posed with a masquerade and posted the pictures on Facebook. The photos were actually met with different reactions as a lot of people condemned the act and some people felt indifferent.
The lady is even reported to be the girlfriend of the masquerade and she was even carried by her boyfriend in another picture.
Well, whatever rocks their boat!!!
some reactions below;
Caleb Moris A friend of mine actually wooed his bea in a masquerade attire and now they're happily married so I'm not surprised Meanwhile How can your WhatsApp status be  "At meeting" for 6months😑😑
Are you planning to buy Africa? 😂😂
Uba Sandra Chisom Best picture I have ever seen in 2018 Awwwwh waooow… but gossip mills.. how did you know they are lovers… even at that , love os a beautiful thing…💃🏻💃🏻💃🏻💃🏻
Mhiz Prudyice yes na,masquerade na human being,dey HV blood running tru their veins..but they are just demonic,an so u go dey dream bad dream everytime foolish being
MhiZta MD Jay look at this two useless pigs.. and a guy with bright future will be toasting this girl but her village people won't allow her to see the good side..
Ogor Emmanuel So watin make we do about am…gossip mill , their was election in delta state today..una no fit give us details about the election, na juju una dey show us….make thunder from Kenya blast una…
Don Vincent Okafor This is the reason many Slay Queen disturbed their parent to Pay 15-17K on transport fair just to travel to their Village, now they cant come back. To wear white is easy to wash it is hard,lemme not talk sha