Meet the Civil engineering student who sells food items to raise school fees years after recovering from paralysis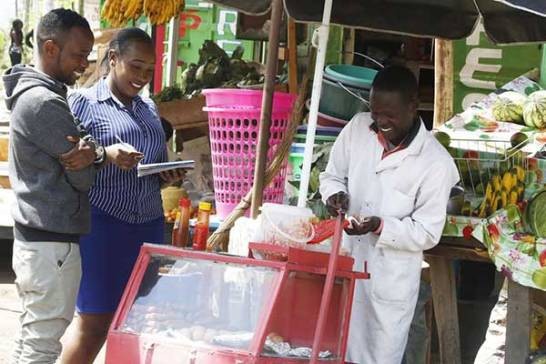 23-year-old Civil Engineering student, Casper Chebii sells sausages, cigarretes , boiled eggs  from a trolley at at the busy Olive Inn estate bus stop in Nakuru County, Kenya,
The third-year student at Rift Valley Institute of Science and Technology has been doing this since July 2017.
"I grew up in Baringo and I am the second born in a family of eight," Chebii says. "Despite financial problems in our family, I scored 351 marks in my Kenya Certificate of Primary Education examination and was admitted to Moi High School Kabartonjo."
Things did not go well for Chebii. He fell sick in third term while in Form Two. He became paralysed but did not want to accept his condition.
Chebii dropped out of school in Form Three to seek treatment when his health deteriorated.
He says his family was devastated as he had to be taken from one hospital to another.
Eventually, he settled for herbal medicines and his condition improved after a year".
"I was always among the top 10 in my class. The sickness was agonising since my peers were now in their final year. I really wanted to go back to school though I had not recovered fully," Chebii says.
His parents went back to Moi High School Kabartonjo and pleaded with the administration to allow him back.
It was not to be. He says the principal insisted that they settle fees for the year he was out of school first. Having spent tens of thousands of shillings on his medical bill, Chebii's parents could not meet that requirement. They took him to Kasisit Secondary School near his village.
Surprisingly, Chebii scored a B- of 58 points the following year, emerging the fourth best student in a class of 79.
Chebii's parents could not raise fees to take him to Technical University of where he had been called.
He moved to Nakuru town where his elder brother owned a butchery.
Chebii says he helped around and started saving from the little he was earning. He took the decision to enrol for his childhood dream at RVIST in 2016.
"I needed something to do during the long holidays for I hate being idle. I started this business from the Sh10,000 I had saved. I have no regrets since I make Sh10,000 to Sh15,000 a month," he says.
Chebii is on attachment at the Ministry of Public Works but his business thrives. He wakes up at 4.30am to boil the eggs then sets up the tent for his sister to do the selling.
As soon as Chebii gets home at 5.30pm, he changes into his apron and takes over the business till 9pm.
"It is not that easy. Sometimes the sales go down. I could end up throwing away most of the food. The place is almost in the midst of bars and some drunkards refuse to pay after eating. Remaining positive, confident and persistent pays," he says.
Chebii's biggest support is from his family and fellow students. Some are encouraging him to start the same business in college.
"I hope to build it into something big," he says.