Miracle: Damaged kidney restored by Prophet Jeremiah Omoto Fufeyin(+video)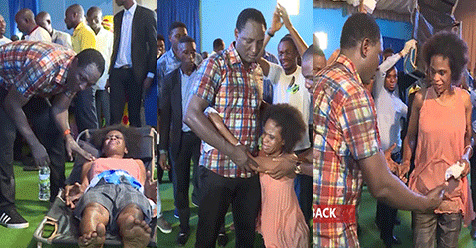 Written by Theresa Moses. Read below..
God has used Prophet Jeremiah Omoto Fufeyin, General Overseer, Christ Mercyland Deliverance Ministry, and founder of Mercy Television situated at Warri, Delta State, South-South Nigeria tospread abroad the gospel of our Lord Jesus Christ; healing the sick and to proclaim liberty to the captives, as well as demonstrating the power of God for the world to see.
The Principality Bulldozer through the power of God hasperform many miracles especially the miraculous restoration of the damaged kidneys of Mrs. Comfort Nnamani Isong, a worker in God's vineyard that got the internet buzzing.
Husband of Mrs. Isong, with damaged kidneys, Dr. Emma Isong of Life Aid Doctors, Delta, narrated his wife's conditions thus: "My wife told me she was feeling feverish, after administering drugs and treating her for Malaria and Typhoid to no avail, I decided to conduct a general body test and we discovered that two (2) of my wife's kidney are damaged.
She couldn't talk or eat for over two (2) weeks as the upper and lower jaw joined together, her skin colour turned yellow, the legs were paralyzed and couldn't walk. She has urinary incontinence, (the loss of bladder control), excreting almost everything in her body, including fats, resulting to the use of adult diapers; she was bedridden. Doctors from Washington DC (United State of America, USA) and India, all said nothing can be done apart from starting dialysis and preparing to take her to India for kidney transplant which cost a fortune and her chances of survival are 50-50".
Her story changed the moment she came in contact with the man of God, Prophet Jeremiah. When the prophet saw how critical her condition was, in tears cried to God in prayers and gave her his handkerchief and then sprinkled the water of life all over her body and instantly, she received healing.
In less than 48 hours after the healing, the husband carried out another test as instructed by the man of God and it showed that her kidney are normal. Dr. Isong who until now doesn't believe in miracles, experiencing that of his wife testified to his colleagues in Nigeria and abroad to come see the awesome wonders of God.
Dr. Tony Ubot, CEO, Life Aid Doctors, Lagos, along with his professional medical team including Dr. Alabi Richard, came to Mercy city in Warri, Delta state to testify to the miraculous healing and restoration of the kidney of their colleague's wife.
Prophet Jeremiah Omoto Fufeyin, said he is sent to win souls for Christ, liberate the children of God from any form of captivity by teaching the word of God. He posited that the healing of the damaged kidney is the handwork of God to reach out to the sick, depressed and lost.
Are you expecting a miracle? Get connected with the man of God on social media and other platforms as follows: Twitter @christmercyland,  instagram @ prophetjeremiahomoto, YouTube @Christmercylan, facebook @ prophet Jeremiah ministries or visit the church website: www.christmercyland.org
Watch the video below…