Moment a taxi boss was shot dead in broad daylight in South Africa (video)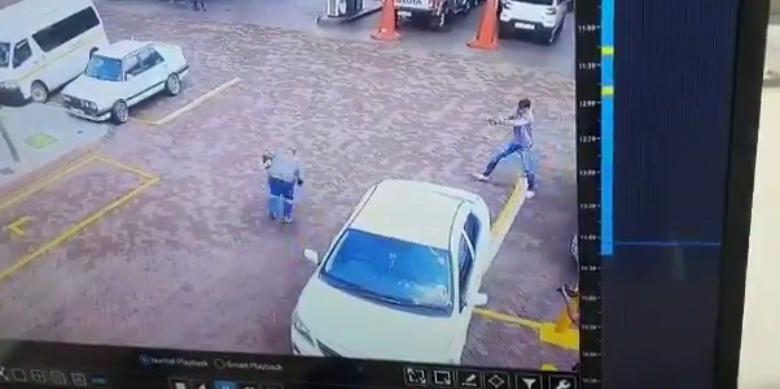 A video which captured moment the chairman of Marabastaad taxi was shot dead has gone viral after being shared online.
The shooting took place at a garage on the corner of E'skia Mphahlele Drive and Boom Street in Marabastad on Tuesday November 24, and it was learnt that the victim is the chairperson of the Bazaar taxi association in Marabastad.
Police spokesperson Captain Augustinah Selepe said preliminary investigations revealed the victim was coming out of the garage shop and going to his car when he was gunned down. Selepe disclosed that more than 10 empty cartridges were found on the scene and the victim was declared dead.
He said;
"A Toyota Etios sedan stopped next to the deceased's car and two occupants wearing balaclavas came out of the car. One was armed with a pistol and the other with a rifle.

"The driver remained in the car as the other two fired several shots at him. The suspects are unknown and the motive behind the killing is under investigation."
A statement from Tshwane branch of the South African National Taxi Council read;
"We condemned the senseless killing of taxi operators, more especially those in leadership positions.

"The fatal shooting of Bazaar taxi association's chairperson earlier today shocked the taxi industry at large.

"We're calling for law enforcement agencies to deal with such behaviour and bring the culprits to book."
Watch the video below;