Photos-NBA legend Dennis Rodman 'will be at the historic meeting between President Trump and North Korea's dictator Kim Jong un'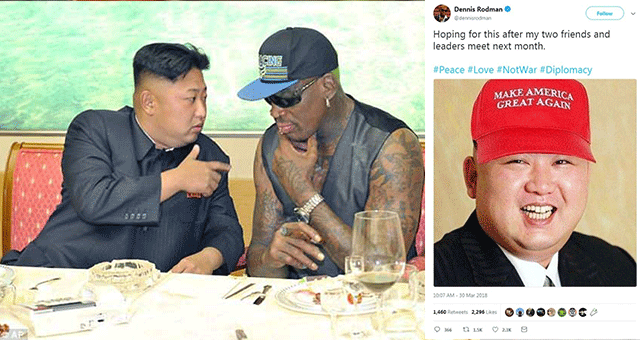 American basketball legend, Dennis 'The Worm' Rodman will witness the historic meeting between Donald Trump and his 'best friend' North Korean leader Kim Jong Un.
Trump and Kim will meet at 9am in Singapore on June 12 and sources say, Rodman who has maintained a bizarre friendship with the dictator in recent years will arrive in the country on June 11 and could even play a role in negotiations between Trump and Kim.
'No matter what you might think about his presence. One thing's for sure the ratings will be huge,' a source told the New York Post.
'A lot of times in situations that involve complex diplomacy countries like to identify ambassadors of goodwill and whether you agree with it or not Dennis Rodman fits the bill.'
According to Rodman's rep, Darren Prince, the basketball legend had 'talked about it' but had not made any travel plans to Singapore – although he said he was willing to go if the world leaders wanted his input.
Back in March, Rodman tweeted a photoshopped picture of his friend Kim, wearing a MAGA hat. 'Hoping for this after my two friends and leaders meet next month #Peace #Love #NotWar #Diplomacy,' Rodman wrote.