News presenter hides under desk on live TV as 7,1 earthquake hits Southern California (video)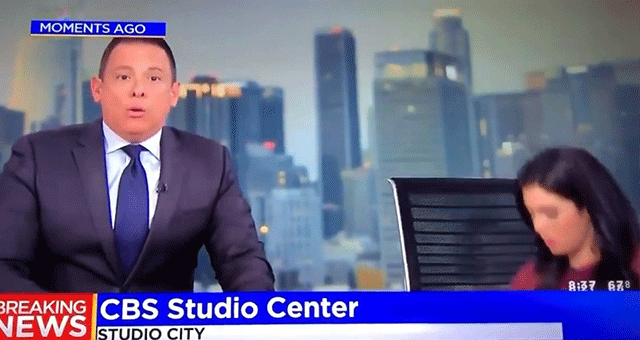 Barely a day after Ridgecrest was hit by a 6.4-magnitude earthquake, a 7.1-magnitude earthquake also rocked Southern California on Friday night. One of the major highlights of the incident, was a CBS news presenter, Sara Donchey, ducking under the desk with cameras rolling while broadcasting live during the quake in Los Angeles
Juan Fernandez and Sara Donchey were reporting live when the violent tremors hit.
"We are experiencing quite a bit of shaking if you bear with us a moment," Donchey said. "We're making sure nothing is going to come down in the studio here."
Visibly scared, Donchey grabbed Fernandez's arm. "This is a very strong earthquake," she said. "8:21 here and we're experiencing very strong shaking. I think we need to get under the desk Juan." With the cameras still rolling, she didn't wait as she slid out of her chair and hid under the desk.
Donchey proceeded to take cover as the network suddenly paused for a commercial break.
The earthquake which rocked buildings and cracked foundations, sending jittery residents out on the streets, occurred 11 miles northeast of Ridgecrest. It was further gathered that the Ridgecrest area has had more than 100 aftershocks since Thursday's earthquake, and experts warn there could be more to come.