Meet This Young Nigerian Artiste @ayogukingsleyfineart -His Paintings Look So Real(Photos)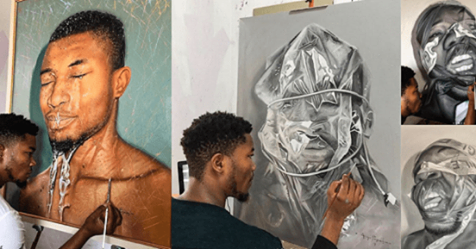 He is just too good at what he does and you would not even believe this photos are paintings
.Ayogu Kingsley Ifeanyichukwu born September 23 in Enugu Hails from Aji Igboeze North L.G.A. Enugu State, Nigeria. He is a Mastermind NCE holder in Painting and Graphics from Enugu State College of Education (Technical) Enugu Nigeria.
Furthermore, his painting / which seek to express themes of daily experience of human life and nature has been defined as poetry that speaks to create pulsating appeal to the conscience of people.
He Captioned this one: Troback: Do you know even after framing this piece I continued working on it? 😫😫. 18k IG family Thank you all for your support and encouragements. God bless.🙏🏽 THEY LEFT ME 30″X40″ Oil on Canvas 2017 Ayogu Kingsley.
@theunseenlanguage