Nigerian footballer, two women arrested in Cambodia for smuggling drugs from Vietnam in a speaker (photos)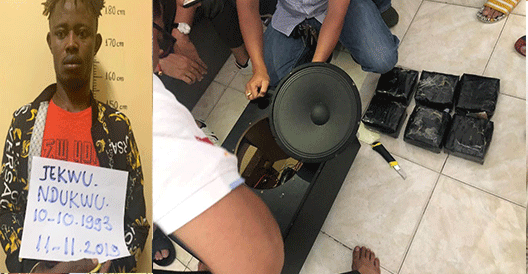 A 26-year-old Nigerian footballer and two women have been arrested in Cambodia after a speaker was seized by police on Monday 11 November.
The Department of anti-drug collaborated with the Dan Dan express bus company in a bust coordinated by Mr. Seth Vannak, Phnom Penh prosecutor, to seize the shipment of drugs which was being delivered from Vietnam to Sihanoukville, Cambodia.
The police found six packs of ICE drug (methamphetamine), weighing 5895.82 grams, hidden in the speaker.
Two Cambodian women, Pok Sreyleak, 28 and Non Srey Nou, 20, were arrested while transporting the drugs.
They led police to the Nigerian footballer Ndukwu Jonathan Chukwujekwu, who was arrested at his home in Meanchey district.
See more photos below…