Nigerian man arrested in India for online fraud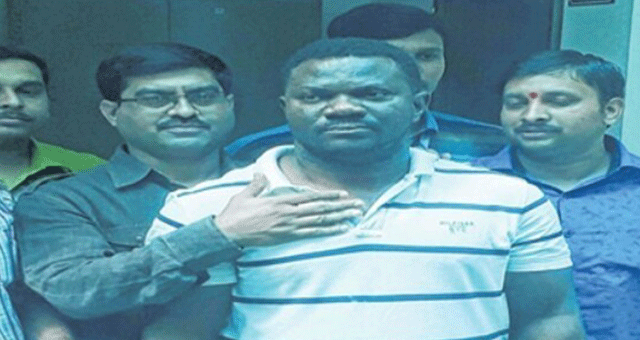 A 38-year-old Nigerian national, who is staying illegally in India, was arrested in connection with online fraud from a restaurant in New Delhi last Sunday, May 6.
According to local media, he was using the bank account of a woman from a well-to-do family for transferring money earned by frauds.
SP (cyber cell) Jitendra Singh said that a woman named Glory alias Saumu from Tanzania was arrested in connection with online frauds a few days ago. She had contacted a city-based businessman and later took Rs 4 lakh from him after calling him to Delhi on the pretext of some business related deal. Glory's associates had made an objectionable video of the businessman to blackmail him. Glory had revealed that she was using the bank account of a woman, Rita Katju of Delhi for the transaction of money.
During investigation it was found that Rita's account was being used by another person, Kingsley Chibueze. Kingsley had taken ATM card of Rita to use it to withdraw money earned by frauds.
Ongoing investigation revealed that Rs 16 lakh were credited to the bank account of Rita and Kingsley had even withdrawn the money using her ATM card many times.
Later, a team of cyber cell was sent to Delhi to arrest the accused. The team contacted Rita, who was employed in airlines. Rita informed that she was working with an online marketing company when she met Kingsley. She told the cyber cell officials that she had given her ATM card to Kingsley for business purpose. The Cell officials told her to meet Kingsley after which she called him to a restaurant from where he was arrested by the team. The role of Rita is also being investigated by the cyber cell.
Kingsley was brought to Indore on Sunday and he informed that he had withdrawn money using Rita's ATM card. He was associated with a gang involved in online frauds. The kingpin of the gang is Obizie of Nigeria. Kingsley used to send him money after deducting his commission. He said that many African nationals, who are indulged in online frauds, are staying in Delhi for many years.
SP Singh further said that Kingsley Chibueze had come to the country in 2011 on three-month business visa. After expiry of visa, he didn't return to Nigeria and was staying here illegally. He was changing his place in Delhi in order to evade arrest.
He informed that thousands of Nigerians are staying in Delhi illegally and they have made gangs for online frauds on the pretext of marriage, jobs, lotteries etc.