Nigerian man buys a car for his father who sold his motorcycle years ago to save his eye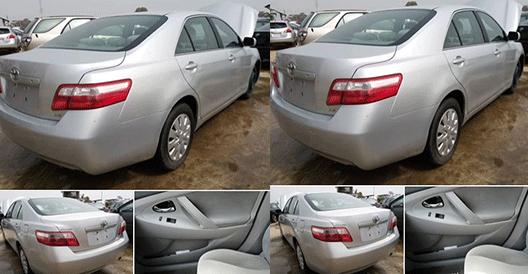 A Nigerian man has showed off a car he bought his father, years after he sold his motorcycle to save his eye after an incident that occurred while he was a kid.
According to Classic Pounds, his parents were given 24 hours to raise money for his eye treatment after being hit by a stone while playing with other kids.
He further disclosed that his father sacrificed the motorcycle he used in feeding them to save his eye at that time for the surgery he underwent.
He wrote;
I know I'm a hot boy but I will never loose my cool, I'm greatful that God answered my secret prayers bcos I wanted my parents to be a life and see how successful thier first son will be. It all started 2006 in my village UMugbalu oboro I was about 7-8 years old I was playing with my fellow kids with stone , then a friend hit me with a big stone on my left eye. My Mom was carrying me around on her back to different eye clinic the doctor said that I have only 24 hours for them to do something fast bcos once it's 12pm next day my eyes will be blind .

The only hope was my Dad motorcycle he was using to feed us he has to sale it off so they can continue with my eye operation my dad sacrifice the only motorcycle he got just for me. I knew God will never fail me I said a secret prayer in my heart, I so much believed in God even in my darkest path in life .

I never lost hope , so Dad today I decided to gift you this fresh whip that comes from the bottom of my heart, please accept it from me . For your job I don't care how much they are owing you but all I can say is give me the price and I will pay it off in few months
#Congrats Dad
#milliionairedreams