Nnamdi Kanu Instructs IPOB-"Any Day You Hear I Have Been Arrested, Burn Down Nigeria To The Ground"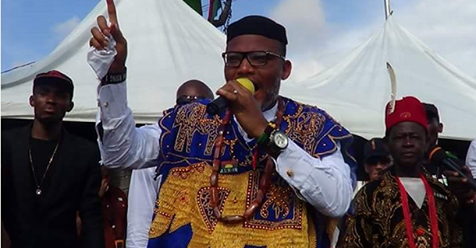 More update….
"The worst mistake Buhari ever made was to arrest me. I will break the zoo into pieces. I am taking IPOB to Abuja on the 17th of next month for my court case. There will be 2 million people in Abuja. We take the battle to our enemies. You are under oath and by virtue of that oath you are under direct order from me, any day you hear I have been arrested, to burn down Nigeria to the ground,"
Speaking with members of Indigenous People Of Biafra (IPOB) yesterday, the leader of the group Nnamdi Kanu alleged that we all have been deceived by the Presidency, as the man presently ruling the country is not President Buhari but a Sudanese national who had undergone plastic surgery in order to look like President Buhari.
"I can stand and prove who I am but Buhari cannot do the same thing. The man you are looking at on the television is not Buhari. His name is Jubril, he is from Sudan. After extensive plastic surgery, they brought him back. They taught him Buhari's mannerisms and he came back deceiving all of you. He cannot deceive Nnamdi Kanu and IPOB," he said.
He also debunked a report by the Sun newspaper that he is currently on the run;
"It wasn't my wish to speak but the more I keep quiet the more they keep lying. I am under oath to defend IPOB and I will do so. We can never, ever surrender. Don't mind the lies they are feeding you. People want to sell their newspapers, they fabricate nonsense." he said