Obasanjo silenced every contender to anoint Yar'Adua as PDP presidential candidate – Nnamani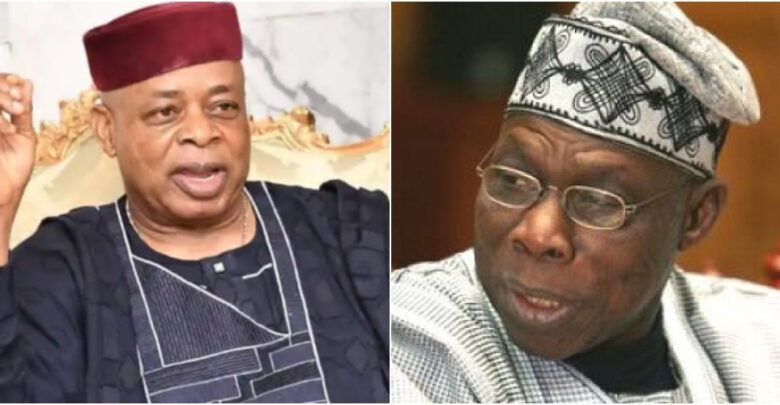 Former senate president, Ken Nnamani has alleged that former President Olusegun Obasanjo silenced everyone to ensure that late Umaru Musa Yar'adua emerges as Peoples Democratic Party (PDP) presidential candidate in 2007.
Nnamani made the claim in his newly-released book, 'Standing Strong: Legislative Reforms, Third Term and Other Issues of the 5th Senate'.
According to him, former governor of Rivers state, Peter Odili was "the most prepared of the lot for the ticket", but suddenly there was a "skeleton in his cupboard, about the EFCC and some documents".
He added that Obasanjo rejected Ahmed Makarfi, former governor of Kaduna state, because he "was too intelligent to be controlled".
Nnamani wrote;
"But of those who ran for the [PDP presidential] ticket, Governors Ahmed Markarfi of Kaduna State and Abdullahi Adamu of Nasarawa were the more prominent. Governor Markarfi is a brilliant accountant, and North West State of Kaduna had the reputation of being a gentleman and was the candidate of many of his brother governors in the PDP for the presidential ticket.

"In an interview granted the Interview Magazine in 2017, Chief Ayo Fayose, who was the Governor of Ekiti state during the third term period. Revealed that Markarfi was the preferred candidate of a committee set up by the president to find a suitable flagbearer for the party. Fayose, who was chairman of that presidential committee, claimed that Obasanjo rejected the choice of Markarfi because he felt the governor was too intelligent to be controlled.

"In the end, the list of contenders tapered out to 12 candidates who ran for the party's ticket. They included Governor Yar'Adua. Chief Rochas Okorocha, General Aliyu Gusau (Rtd), Professor Jerry Gana, General Buba Marwa (Rtd), Navy Commodore Ebitu Ukiwe (Rtd), Late Admiral Mile Akhigbe (Rtd), Chief Albert Horsfall, Mrs Sarah Jubril, Chief Ralph Uwechue, Andreas Sawa and General Mamman Kontagora (Rtd). None of those generally regarded as front liners for the ticket was on the card. After the vote, Yar'Adua was declared the winner with 3,024 votes out of a total of 4,101 voles. In the end, the Presidency's will was done, as all those who stood a chance had been either silenced or run out of the party.

"As I watched the proceedings of the PDP presidential primaries for the 2007 elections in Eagle Square that day, the evidence of an inverted and corrupted democracy was all too clear. The party members – the contestants and the delegates – making their way to the arena to cast their votes were just following the motions to give the impression of democracy in action. It was clear to anyone who had been following the events of recent weeks that the whole process at the Eagle Square that day was a charade because the outcome of the election had been predetermined. All serious contenders for that election had either been hounded out of the way or 'convinced to withdraw. Governor Yar'Adua was the anointed of President Obasanjo."