Parents seek help in locating their four-year-old daughter who was picked up by a stranger in their Lagos church in June"(Phhotos)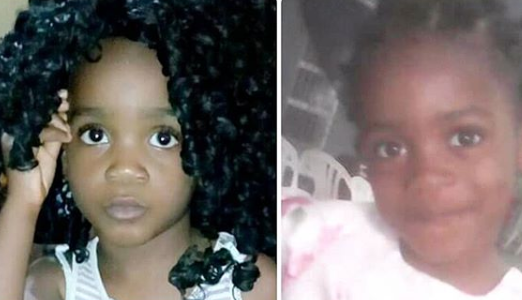 The parents of four-year-old Goodness Igwe, pictured above, is seeking the help of the public to locate their daughter who was kidnapped by a stranger on June 3rd 2018.
According to her father, Igwe CY who spoke with LIB, himself, his wife and their children, Goodness inclusive, where inside their church hall, Latter Rain Assembly Ikeja, talking with a family friend just after service when they noticed she was no longer with them.
"Myself, my wife and my children were inside the church hall discussing with a family friend. Goodness was with us playing with her toy. Whilst we were talking, the mother turned to look at the children and noticed Goodness was no longer around us. We searched for her and she was no where to be found"Igwe said
A case of a missing person was immediately filed at the police station in Ikeja. Mr Igwe said some fraudulent persons had contacted him with claims that they had his daughter and wanted him to pay a ransom for her release. The police was involved and the suspects were arrested.
It's been three months now and a wide search to find her is still ongoing at the moment. Her family especially her mum is terribly worried..
Anyone with any usefull should please call 08029577385, 08034085451
This comes a month after four year old, Elo who was also kidnapped at a Christ Embassy Church in Lagos, was found in Benin city.