Pepa from music group Salt-N-Pepa is slammed by boyfriend's pregnant wife for parading affair on social media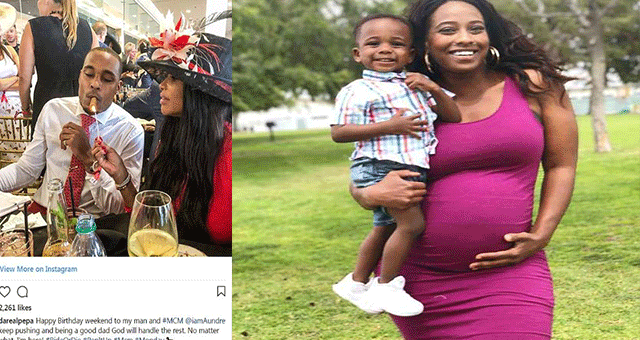 Sandra Denton, better known as Pepa from Salt-N-Pepa, has been slammed by her boyfriend's pregnant wife after she flaunted their affair on social media.
The rapper flaunted Aundre Dean as she treated him to a birthday weekend at the Kentucky Derby. Sharing the photo on Instagram, she referred to him as "my man" in the caption.
She wrote:
Happy Birthday weekend to my man and #MCM @iamAundre keep pushing and being a good dad God will handle the rest. No matter what, I'm here! #RideOrDie #PepItUp.
Jordyn Taylor, who is married to Dean and is carrying his child, got upset when she saw the photo and the accompanying words and she lashed out at Pepa. Jordyn reposted the photo and caption shared by Pepa and tore Pepa to shreds with her caption.
She wrote:
When mistresses talk about God… it's laughable!
Keep being a good dad?" @iamaundre can't keep his visitations with his son because @darealpepa is parading him around the country.
Still, I blame him for this! News check… Good dads pay child support & don't break in and vandalize their wives apartments. Good dads don't stress their pregnant wives out for 15 minutes of fame with a D list "has been" senior citizen celebrity.
Still, I release you both in the name of Jesus. God bless u #GUHH#heresyour15minutesoffame. Liar… saying she was your boss. Introducing me to her & asking me if SHE could be our daughter's god mother! #fatheroftheyear?
Denton, whose reported age lies somewhere between 48 and 53, already has two children of her own: 27-year-old Tyran Jr, whom she had with a New York Rapper named Tyran "Tah-Tah" Moore; and 18-year-old daughter Egypt whom she shares with ex-husband Anthony "Treach" Criss of Naughty by Nature.
She has since deleted the controversial post.