Photo-22-year-old lady says she killed her Uncle in self-defence when he tried to rape her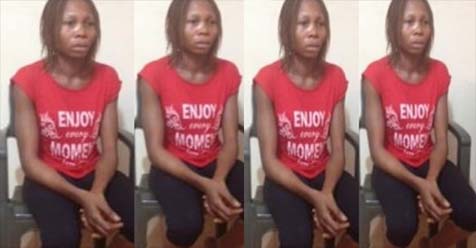 Tina Rebecca, a 22-year-old lady, is currently being held by the Enugu State Police Command for reportedly killing her uncle, Friday Mathew, in an incident that happened at Independence Layout area of Enugu on Thursday, October 26, 2017.
Tina who hails from Akwa Ibom State, confessed to committing the said crime after she was arrested as she tried to flee the scene of the incident. She claimed the death of her 48-year-old uncle was accidental, as she struggled to escape from him when he attempted to rape her. She said he became very violent as she continued to resist him and she had to defend herself.
Tina who claimed she kicked his genitals to escape, said on the night of the incident she had sent Thank-God, her uncle's 10-year-old son on an errand to buy sugar for her, and was lying down in the room waiting for the boy to return, when the uncle, thinking she was asleep snuck up to her bed and tried to force himself on her.
According to her, the kick had no effect on him which made her use a stone to smash Mathew's head. "Really, it was not my intention to kill him as I never intended to do so although he has been disturbing me sexually," Tina said.
Confirming the incident, the State's Police PRO, Ebere Amaraizu,  said Mathew's son, Thank-God, returned from the errand only to meet his father's lifeless body. He further disclosed that Tina allegedly told the boy to keep quiet, to avoid attracting attention, promising to take good care of him, after which she locked up the house and took him to the home of a relative.
After dropping the boy with the said relative, Tina ran away. Amaraizu added that the 22-year-old lady was apprehended before she could leave Enugu.
"When the child of the deceased came back and met the lifeless body of his father, he was allegedly warned by the suspect not to shout in order not to attract attention which would lead to her arrest. She (Tina) promised the young boy that she would take care of him, then she immediately locked up the house and went away with the boy and dropped him at one of their aunt's place and disappeared. "When operatives of the New Haven Division of the Enugu State Command got the report, they swung into action swiftly and were able to arrest the escaping Tina Rebecca Sunday who is now helping the operatives in their investigations' Amaraizu said.
According to him, "The suspect is now regretting her action and begging for forgiveness as she never intended to kill the uncle."