Photo-Emmerson Mnangagwa sworn in as Zimbabwe's new President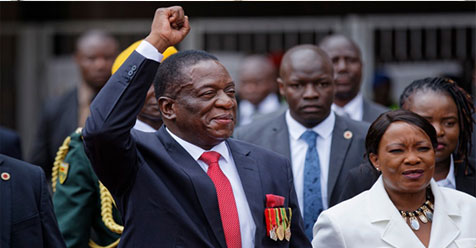 Emmerson Mnangagwa has been sworn in as Zimbabwe's president in a ceremony this morning at a packed stadium in the country's capital, Harare.
His swearing in ceremony follows the dramatic resignation of Robert Mugabe after 37 years. The former vice-president's dismissal earlier this month led the ruling Zanu-PF party and the army to intervene and force Mr Mugabe to quit.
Below is the oath of office he recited a few minutes ago
I Emmmerson Dambudzo Mnangagawa swear that as president of the Republic of Zimbabwe – I will be faithful to Zimbabwe and obey uphold and defend the constitution and all other laws of Zimbabwe and I will promote whatever that will advance and will oppose whatever will harm Zimbabwe that I will protect and promote the rights and people of Zimbabwe that I will discharge my duties will all my strength to the best of my strength and ability and to the dictates of my conscience and I will devote myself to the well being of Zimbabwe and its people so help me God."