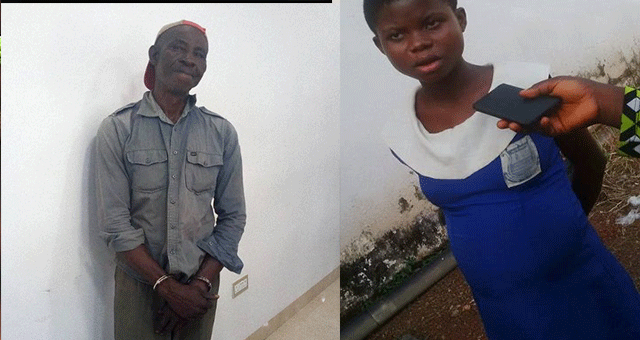 A committee has been set up by the Edo State Government, to check the incidence of child defilement in the state, in a renewed effort to strengthen the Child Rights Law to address issues of sexual abuse of children.
Acting Chairman, Edo State Universal Basic Education Board (SUBEB), Dr. Joan Oviawe, disclosed this, today, while handing over a 58 years old man, Lambert Ighodaro, to the police for prosecution for allegedly raping a 12 year old girl.
According to Oviawe, "After the case was reported by SUBEB to the Police, Lambert was apprehended by the Police. This was after SUBEB received report of the incident from the class teacher of the girl, who is a pupil in one of the primary schools. .
She had observed that the girl was always absent from school and contacted the girl's guardian to find out the cause of her absenteeism. .
The girl told her class teacher how she was being sexually abused by Ighodaro, in his house during school hours since 2017. She alleged that the man gives her money after defiling her."
Related News: Man Dragged To Court After Raping, Impregnating 14-Year-Old Girl In Ebonyi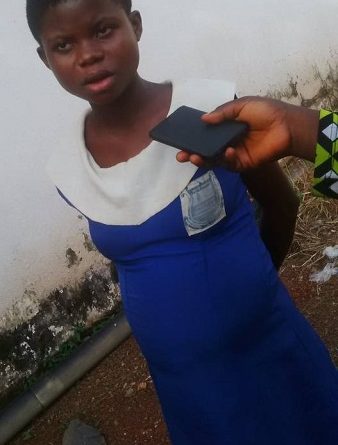 One James Aleke, from lobobo village, Ezzamgbo in Ohaukwu LGA of Ebonyi state has been brought before the Abakaliki Family Law Centre after raping and impregnating a 14-year-old girl, identified as Agbo Chinasa and allegedly abandoning her.
Speaking with Chinasa who was 7 months old pregnant, a primary six pupil of Central School, Obobo and an indigene of Obobo Ishieke, in Ebonyi LGA of Ebonyi State, she revealed that James had been married for years but without having a child.
She said the accused was pestering her to marry him, but she refused on the basis she was still too young.
But on the day she was raped, she was on her way to their evening market (Nwokpo market), not knowing that James was trailing her, until he got to a lonely place, he dragged her into the bush where he raped her.
After the incident, she rushed home and reported the issue to her mother, who immediately confronted James, and thereafter, told him to stay away from her daughter.
Unfortunately, the teenager said months after the incident, she didn't see her mensuration, and she told her mother, who alerted her father about the new development.
Her father immediately took her to James house to stay since he was the one responsible for the pregnancy.
Speaking with Chinasa's father Mr. Agbo Augustine, he said that immediately he discovered that James impregnated his daughter, he took the girl to him. But he later discovered that James wasn't taken care of his daughter.
Agbo said he reported the matter to their village Chief, as tradition demands.
And the villagers agreed that James should take care of his daughter, stressing that he refused at first, but with the help of their village Chief, James agreed to take care of his child.
But James still did not take care of my daughter. When James traveled to Aguata in Anambra State, she was very sick, I spent a lot of money taking care of my daughter James impregnated, yet he didn't care to refund the money or take care of her Instead, he kept telling me that if she dies, I will eat money.
"She was taken to Mile 4 hospital Abakaliki due to insufficient blood, resulting from lack of proper feeding yet, James didn't bother to pay for the hospital bill". he narrated
He prayed the Centre to compel James to accept his responsibility by taking care of his child, noting that if Chinasa should die due to his neglect, he wont forgive him.
He revealed that James never made his intention known to him about wanting to marry his daughter before the rape incident.
Noting that if he had wanted to make case, he would have reported the matter when he discovered his daughter was raped, but that he wants everything to be settled amicably.
Meanwhile, speaking with the suspect James Aleke, he said the relationship between him and the girl was a mutual one, as he never raped her.
He claimed it was a mutual agreement between the two of them, and that the girls parents had agreed and accepted that their daughter would marry him before he raped her.
Stating that his people had earlier brought drink to the girls family after the pregnancy issue and Chinasa agreed she would marry him.
However, he accepted the pregnancy but denied neglecting her, stating that he bought drugs for the girl when she fell ill but she refused to take it.
James said when Chinasa was brought to him, and the time for her antenatal reached, she got registered and afterward, he traveled to Aguata for work where he stayed for a month and four days, during the period the problem started and her parents had to intervene.
He said the girl was staying with his first wife and they were eating from the same pot.
But he came back to discover that Chinasa was no longer staying in his house and when he made inquires, he was told by her parents to bring N5,000 for the girls treatment.
James said he would pay when he has the money and pleaded they should allow him to take care of the girl.
Presiding over the case, the Chairman of the Center, Mrs. Eunice Nwali ruled that James pays N25, 000 for the treatment and would continue doing so until the delivery of the child, while after the delivery, he will be paying N22,000.