Photos-' I'm leaving Nigeria as a hero' – says President Zuma after unveiling of huge statue of him in Owerri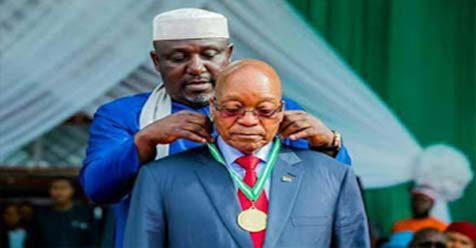 Imo State Governor Rochas Okorocha unveiled a huge bronze statue of President Jacob Zuma in Owerri over the weekend.
Okorocha named a street after Zuma during his two-day visit to Nigeria. He was also conferred with a chieftancy title.
President Zuma said he was at a loss for words after receiving the title, adding that his visit to Nigeria was to "strengthen socio-economic relations and deepen cooperation in education."
"I walked in here' as I say' as an ordinary freedom fighter. I'm leaving Nigeria' through the state of Imo' as a hero. What a decoration." he