Photos-Man arrested for raping his stepdaughter he 'kept prisoner for 19 years'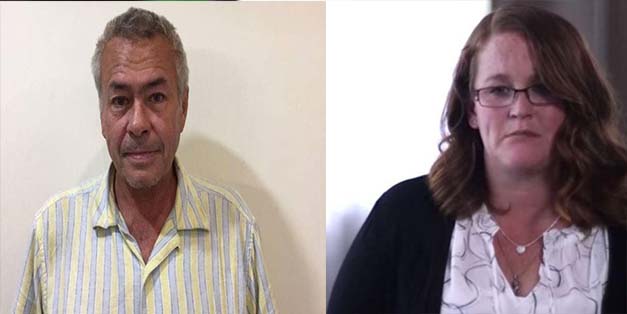 A man accused of marrying his stepdaughter when she was only 12-years-old, then holding her prisoner and repeatedly raping her for 19-years and having nine children by her, has been arrested in Mexico and extradited to the US.
Henri Michele Piette, 62, has been charged with first-degree rape and other offences by authorities in Oklahoma after his step-daughter, Rosalynn McGinnis, now 33, made her way to the US embassy in Mexico and reported the attrocities done to her by Piette.
She told investigators at the embassy that she was "married" by a then 15-year-old son of Mr Piette's in the back of a van the day before Piette was supposed to marry her mother.
Ms McGinnis's mother later left Mr Piette because of his violent behaviour and lived with her daughter in protective accommodation,
Piette allegedly kidnapped Ms McGinnis, who was then 12, in 1997 while she was at school.
The newspaper reported an FBI agent saying in court:
"After being introduced to Piette's other children as their new mother, they began travelling to numerous locations throughout the United States and abroad including … Texas, Montana, Idaho, New Mexico, Arizona and Mexico."
Mr Piette is described by investigators as having "deep ties" to Central America and Mexico and criminal organisations there.
He allegedly went to great lengths to hide his family's location, including travelling to locations they had already left, to post letters to indicate they were still there.
Ms McGinnis says somehow, he was able to get them to Mexico where she was subjected to near daily sexual assaults and bore him nine children.
She said she suffered beatings, torture and was even stabbed shot during her time in Mexico.
She said it was only when a woman who lived near their home in Mexico brought a cake for her children, that she finally told her that she had been kidnapped at an early age and needed help immediately. Mr Piette was out the room at the time she asked for the neighour's help.
The woman found Ms McGinnis "missing" poster online and immediately contacted the authorities.
"I knew that if I didn't get out of there, I'd either go insane or I would end up dying and leaving my kids with that man," Ms McGinnis told People magazine.
After she was rescued from Mr. Piette by US authorities, she returned to the US and waived her rights to remain anonymous. She said:
"I want the world to know. I want him to be stopped and I want justice to be served."