Photos-Mother's unique punishment to son goes viral on Facebook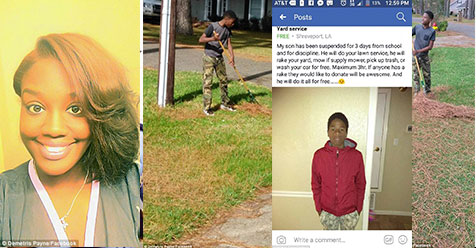 A mother punished her son, 13, who got suspended from school by offering him up to work for free for their neighbors.Jadarien Payne was suspended from school for talking back at his teachers, so Demetris Payne from Shreveport, Louisiana decided to punish him in a unique way which has now been hailed by Facebook users after she uploaded a photo of her son doing manual labor for the local community.
"My son has been suspended for 3 days from school and for discipline, he will do your lawn service, he will rake your yard, mow if supply mower, pick up trash, or wash your car for free. Maximum 3 hrs. If anyone has a rake they would like to donate, will be awesome. And he will do it all for free," she wrote.
Subsequently, she shared photos of her son mowing lawns, raking yards and washing cars to keep her friends and family updated.
She captioned one: "Thank you Ms Wills for allowing us to do you yard and supporting us.. It was a team effort and praying for your complete healing of your knees."
The boy ended up working in at least eight different homes. After he was done his mother took him to the library where he spent the rest of the afternoon reading and doing homework assignments.
Demetris said: "We explained to him that these chores weren't to punish, punish, punish, but to teach him a lesson and teach him about discipline. No matter if the teacher is right or wrong — always respect your teachers, respect adults."
The mother-of-three has become popular since sharing about her son and lots of media houses have been calling her up for interviews. She also revealed that her professor asked her to stand in front of the class to tell her story. Social media users also were impressed with her parenting skills and said as much in the comments.
"Good morning Ms. Payne have you ever thought of sharing your ideas with other parents since your method of punishment may help many other children to go in the straight and narrow. Great parenting on your behalf, Keep it up," one comment reads.
"You are what makes America great!! Of course you win mom of the year, but this is one very lucky young man to have someone who loves him this much. God Bless you, ma'am!!!" another commented
Another user wrote: "Such a valuable lesson for this young man and the parents are the school's dream."